Historically, industrialization, capitalism, and affluence have contributed to the emissions that are warming the planet's atmosphere. As humanity starts to grapple with the Herculean challenge of decarbonisation, should economic growth be abandoned to stand a chance of success? Would this lead to a better society, especially in already rich nations, freeing them from pointless consumerism? Growth for Good takes these legitimate concerns as a starting point to draw the reader on a journey into the socioeconomic, evolutionary, historical and cultural origins of the growth imperative. Growth is underpinned by the human quest for self-determination, contributes to peaceful conduct of politics and international relations, and the very way our society is organized: capitalism. Ditching it would not only prove impractical, but would exacerbate conflict within and between societies. Growth for Good draws a credible agenda to enrol capitalism in the fight to stave off climate catastrophe, detailing a plan involving an activist government, proactive business, and engaged citizens.
Speaker: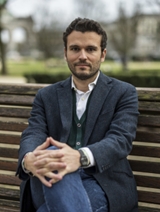 Economist at the European Commission, Adjunct Professor at Sciences Po and HEC Paris
The Integrative Conservation Webinar Series are monthly events featuring cutting-edge presentations and topical discussions on the theory, practice, and policy of biodiversity conservation. The series is sponsored by Integrative Conservation and the webinars' content is generally related to work published in the journal. The Integrative Conservation webinars take place the first Tuesday of every month (4:30 to 6 pm, Beijing time), on Zoom (freely accessible to anyone, ID: 312 430 8960, PWD: 666666), and are embedded within the weekly seminar series of the Xishuangbanna Tropical Botanical Garden (XTBG), CAS.
We are seeking submissions for an upcoming Special Issue titled 'Human Wildlife Conflict and Coexistence in the context of the Kunming-Montreal Global Biodiversity Framework'. Deadline for submission: 15 August 2023.