In May 2019, during a routine canopy survey near the National Forest Ecosystem Research Station at Xishuangbanna, in southwest China, an Asian black-webbed treefrog (Rhacophorus kio) was observed resting on a canopy leaf of a flowering Parashorea chinensis tree.
Researchers from Xishuangbanna Tropical Botanical Garden (XTBG) observed the same species again in October 2019. Only this time the treefrog was perched on an epiphyte (Microsorum punctatum) at the crown of an adult P chinensis tree.
"To the best of our knowledge, these images likely document the highest arboreal frogs that have ever been photographed", said Dr. DENG Yun of XTBG.
It is uncommon to observe frog species in the emergent (top) layer of a tropical rainforest, for a few reasons. For starters, P chinensis is considered one of the tallest tree species in China, capable of growing up to 80 m, which is too high for an amphibian to climb. The relatively hot and dry conditions of the typical canopy habitat also seem unsuitable for amphibians. Furthermore, members of this treefrog species likely rely on foliage to protect themselves from predators and physical exposure, which also effectively conceals them from human observers.
For more information, please refer to the Frontiers EcoPics in Frontiers in Ecology and the Environment.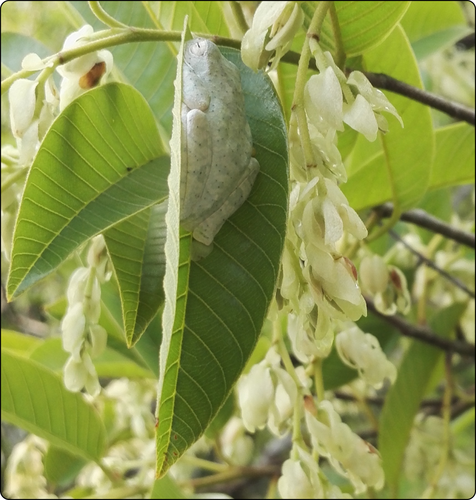 An Asian black-webbed treefrog (Rhacophorus kio) was observed perching on an epiphyte (Microsorum punctatum) at the crown of an adult P chinensis tree .(Image by XTBG)

An Asian black-webbed treefrog (Rhacophorus kio) was observed resting on a canopy leaf of a flowering Parashorea chinensis tree. (Image by XTBG)