In a study published in BGCI's education journal Roots, researchers from Xishuangbanna Tropical Botanical Garden (XTBG) showed that school green space improves children's environmental attitude and behavior. They suggest that botanical gardens, with their knowledge of plants, horticulture, and creativity, can help schools to create a better green space.
Nature has healing properties, however pure forms of nature such as primary forests and wilderness, are not accessible to everyone, particularly children. In this case, green space in cities may provide a substitute to pure nature, and be beneficial to health. However, whether school green spaces have any effect on a student's environmental attitude and behavior is still unclear. Liu Wanlu and her teacher Prof. Chen Jin conducted an investigation to address this.
Using the 'Green Environment' variable as an independent variable, and perceptions about the school environment (PSE) as a dependent variable, they found students' perceived their school environment was consistent with objective measures of green space quality. Students who perceived their school environment as a better environment have a better environmental attitude and self-reported pro-environmental behaviors. Also, students who interacted with natural elements in school (INE) more frequently have a better environmental attitude and self-reported pro-environmental behavior (PEB).
The study suggested that, when supplemented by outdoor pedagogical activities, school green spaces could significantly contribute to equipping children with environmental literacy.
Moreover, some modules in schools could support the educational function, such as, vegetation gardens, flower gardens, 'secret gardens', big trees, a reading gallery, and green corridors, etc.
" In the process of building a better school green space, schools may need the help of professionals such as botanical gardens', said Prof. Chen Jin of XTBG.
For more information, please refer to: https://www.bgci.org/wp/wp-content/uploads/2021/11/Roots18.2MedRes.pdf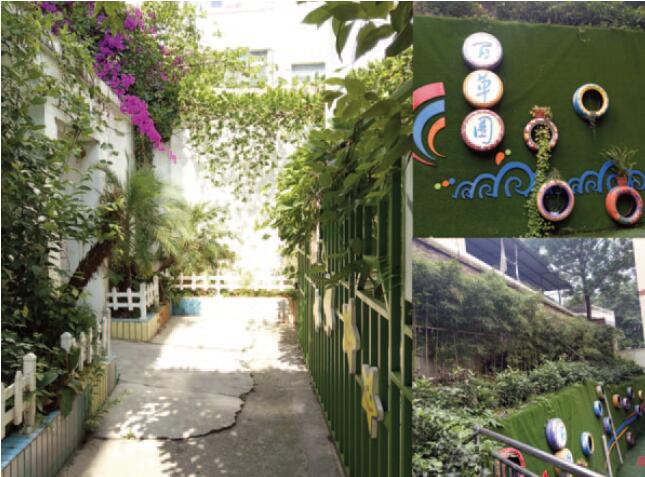 Secret gardens in schools. (Image by LIU Wanlu)