Cheirostylis Blume is characterized by a column with two stelids, two well-separated stigma lobes and connate sepals that form a tube. Among the 55 species in the world, 18 species are reported from China, of which 8 species are believed to be endemic. During their fieldwork in Mengla County of Xishuangbanna, southeastern Yunnan, Prof. GAO Jiangyun's team of Xishuangbanna tropical Botanical Garden (XTBG) found a new species of Cheirostylis in the limestone forest and named it as Cheirostylis acuminata for the lip apex with a tiny ligule.
Cheirostylis acuminata is close to C. clibborndyeri Yu & Barretto , but differs by a shorter inflorescence (2–7 cm long), fewer flowers (1–3), pubescent ovary and outer surface of sepals, acuminate apex of lip and different size and structure of seed from C. clibborndyeri and be distinguished from C. rubrifolius by not having a saccate hypochile and no keel and papillae in the hypochile.
Cheirostylis acuminata occurs in a shady limestone forest valley at 800 m and creeps on damp rock surfaces. It is known only from the type locality : Mengla County, Mengyuan town, Paozhuqing village, limestone forest, 21°50.21′N, 101°22.25′E, 800 m. It flowers from the middle of December to the end of January.
For more information, please refer to "Cheirostylis acuminata (Orchidaceae; Cranichideae; Goodyerinae): a new species from Yunnan Province, China" in Phytotaxa.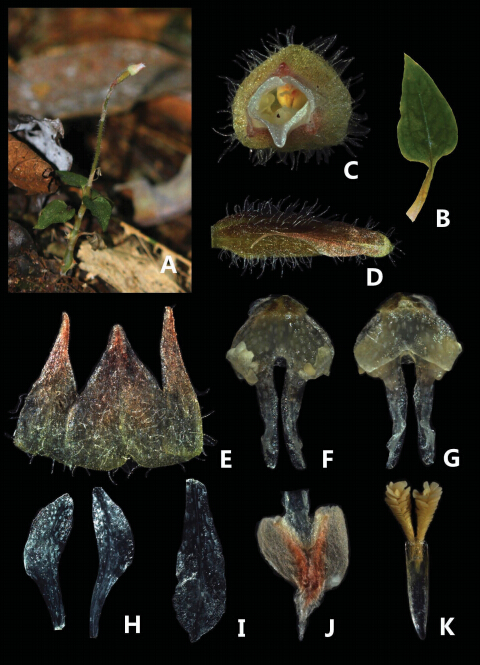 Cheirostylis acuminata. A. Plant habit. B. Leaf. C. Frontal view of flower. D. Ovary and floral bracts.
E. Sepal. F. Adaxial side
of column. G. Abaxial side of column. H. Petal. I. Lip. J. Anther. K. Pollinia.
Photographed by Zhi-Long Liu