The tropical rainforest is a hot, moist biome found near Earth's equator. The hot and humid conditions make tropical rainforests an ideal environment for plants and animal. Rainforests represent the richest biodiversity on the earth.
Xishuangbanna tropical rainforest is home to many rare and endangered species, including plants, animals, bacteria, and other microorganisms. However, the rainforest is subject to heavy exploitation. Deforestation of tropical rainforest has resulted in species extinction, loss of important ecosystem services and renewable resources, and other impact.
Prof. Chen Jin, director of XTBG, has made a lot of efforts to awaken people to protect rainforest in Xishuangbanna. He has dedicated to popularizing knowledge of tropical rainforest and increasing awareness of biodiversity conservation for many years.
In cooperation with Xishuangbanna TV, a column named Stories from the Rainforest has broadcast in Xishaungbanna over the past few years. Aimed to increase the public awareness to care for rainforest and nature, the TV Column Stories from the Rainforest focused on telling stories between the indigenous people and the rainforest and its ecosystem through narrating and describing.
Dr. Chen Jin is also editor-in-chief of Rainforest Stories, an emagazine talking about the mysterious and amazing rainforest.
In recognition of his outstanding contributions to scientific popularization, Dr. Chen Jin was honored one of "Top 10 National Outstanding Science & Technology Workers" in 2010.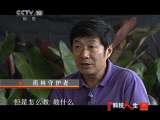 CCTV-10 also covered Dr. Chen Jin's contributions and named him as Rainforest Protector. To know more about it, please visit this link:
http://kejiao.cntv.cn/science/kejirensheng/classpage/video/20110320/100761.shtml