Tree planting is a tradition for celebrating the graduation of XTBG students. It brings graduates and their supervisors together to celebrate their time at XTBG. On June 19, outgoing graduate students in their gowns of master degree or doctoral degree planted a tree of Chieniodendron hainanense for memory in front of the students' apartment.
The planting of a young tree is a symbolic of the time here. Graduates have completed the first crucial step toward realizing their career goals. They may now embrace the opportunity before them by taking what they have learned and using it to grow, bloom and flourish like the tree they planted on this momentous day.
The graduation ceremony and degree awarding was held in the afternoon, presided over by Prof. Zhou Zhekun. All students and supervisors gathered together to celebrate the "big day" of the graduating students. The ceremony was to celebrate their academic achievement, to honor their hard work and dedication.
In his speech at the graduation ceremony, Prof. Chen Jin expressed his feel of being a graduate supervisor and the way of XTBG cultivating graduate students. He encouraged the graduates to stay positive in a changing, challenging and sometimes negative world, to concentrate and keep thinking, and to bear social responsibility. "We step up effort to create a kind of culture – scientific culture, to cultivate our students. We'd like to create a relaxing environment to develop their interests," said Chen Jin. He said "When I see our graduated students play important roles in their working positions, or they are responsible and absorbed in their career, I feel very happy and regard it as a kind of power of education". "This kind of power has left its mark on the graduated students from this tropical island (XTBG) and become a character", added Chen Jin.
Other leaders and teacher representatives also conveyed congratulations and best wishes for the graduates and their family.
Ms. Zi Xiaomeng, a graduate representative, spoke out her feeling and pride of growing up in XTBG and expressed the heartfelt gratitude to their advisors.
At last, Prof. Chen Jin moved the tassel of the caps of every graduate to the right place. The audience expressed congratulations to all graduates of doctoral or master's degree amid enthusiastic applause.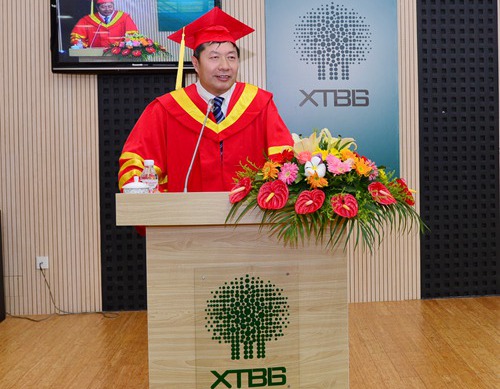 Prof. Chen Jin speaking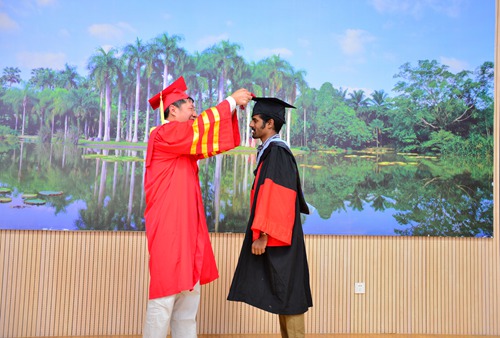 Chen Jin moving the tassel of the caps for an Indian graduate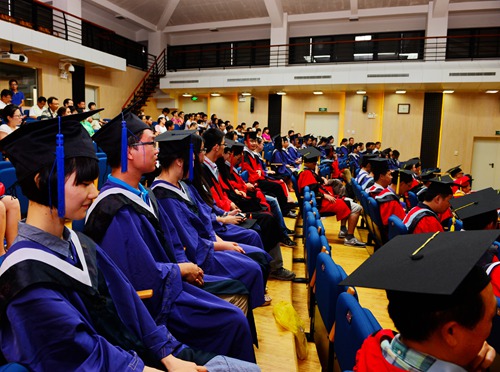 Students and teachers gather together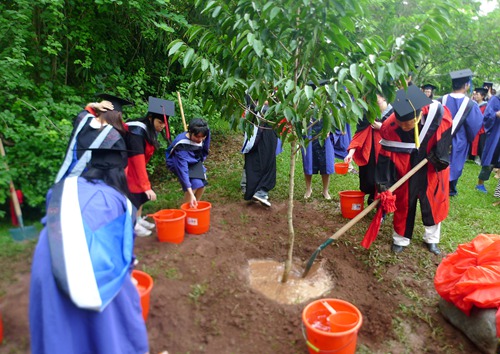 Tree planting by graduates and supervisors