A ceremony was held to thank Prof. Robert Andrew Spicer for his kind donation of his collection of books to Xishuangbanna Tropical Botanical Garden (XTBG) on October 24.
At the donation ceremony, Prof. Zhou Zhekun gave a brief introduction to Prof. Robert Andrew Spice and his donating books.
Prof. Chen Jin, director of XTBG, expressed gratitude to Prof. Spicer. The books donated are a library of 1670 books and journals, including some printed materials. Being a carrier of knowledge, these books are a ladder to improve scientific research of XTBG.
Prof. Chen Jin awarded a certificate of donation to Prof. Spicer, witnessed by Profs. Zhou Zhekun, Xu Zengfu, Fu Yun, Dr. Su Tao, and other audience.
The donated books are a lifetime collection of Prof. Spicer.
Prof. Spicer is an Emeritus Professor of Earth Sciences in the Department of Environment, Earth and Ecosystems at the Open University and a senior visiting scholar at Xishuangbanna Tropical Botanical Garden (XTBG) of the Chinese Academy of Sciences (CAS). He is interested in using fossil plants as indicators of past climates with particular emphasis on the polar environments at times of global warmth, the uplift of the Tibetan Plateau and the development of the Asian Monsoon.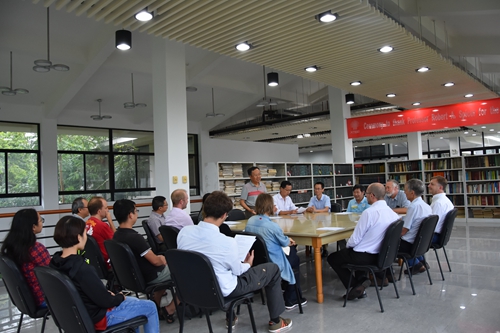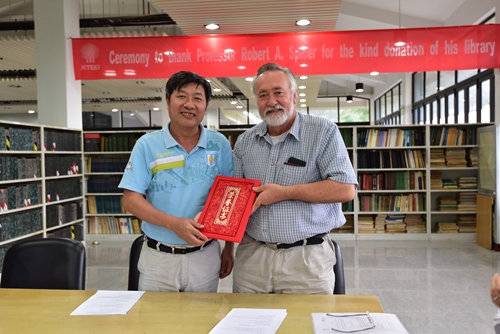 Prof. Chen Jin awards Certificate of Donation to Prof. Spicer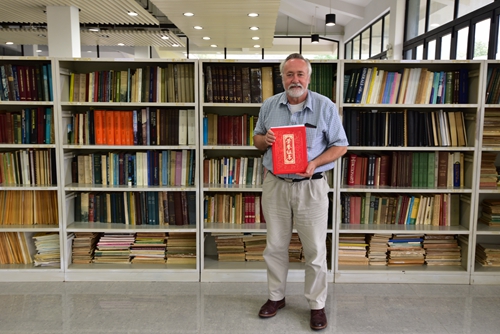 Prof. Spicer poses a photo with the Certificate of Donation in hand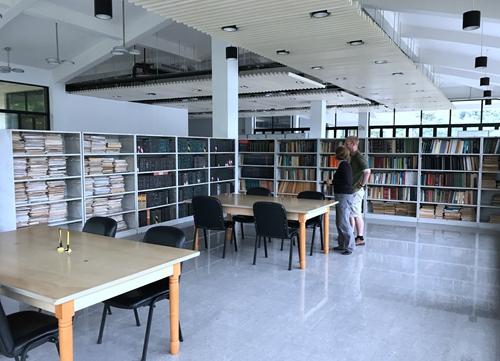 The books are collected at XTBG library.