The Asia-Europe Meeting (ASEM) Workshop 2010 was held at Universiti Brunei Darussalam (UBD) during January 4-7.
With the theme "Towards Understanding the Impact of Global Climate Change on Biodiversity and Tropical Rainforests", the workshop represents Brunei's and Universiti Brunei Darussalam's (UBD) response and commitment to the 'ASEM 6 Declaration on Climate Change', which was adopted at the 6th ASEM summit meeting in Helsinki in September 2006.
Among the six invited speakers, Dr. Ferry JW Slik of XTBG stated that "We have limited knowledge on how global climate change affects tropical forests around the world, even though this information is crucial for designing conservation strategies."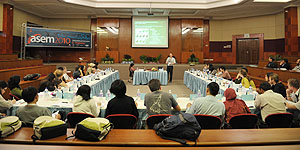 According to him, one way of predicting possible impacts of climate change on tropical forests' biomass, tree diversity and composition are by determining the influence of current climate gradients on these forest properties.
Once these relationships are known, they can be superimposed on maps containing modelled climate scenarios to determine if and how forest biomass, tree biodiversity and composition will change in a spatial context.
  The Brunei Times covered Ferry Slik's research work with a title "Expert hails HoB lead to curb degradation".