The biotic resistance hypothesis predicts that, during alien plant invasion, many biological factors (e.g. species richness, functional traits and plant‐soil interactions) can affect the resistance of a community to the invader. Numerous studies have revealed biotic resistance in plant communities. However, it is largely unknown whether disturbance effects on invasion success differ between the native and non‐native communities.
Chromolaena odorata, a semi‐lignified perennial subshrub, is an invasive species in tropical and subtropical areas.
Dr. ZHENG Yulong of Xishuangbanna Tropical Botanical Garden (XTBG) and his colleagues used biomass fraction of C. odorata as a measure of 'invasion success' in a series of artificial communities varying in species richness.
The researchers established a series of artificial communities in a common garden using resident plants from Mexico (native range) and China (non‐native range). They used the proportion of C. odorata biomass, which was calculated from the biomass of C. odorata/biomass of all plants in the community to evaluate invasion success.
They explored the effects of plant-soil microbe interactions and allelochemicals on invasion success by adding the fungicide carbendazim or pure activated carbon respectively.
A high proportion of C. odorata biomass indicated that the community was easily invaded by C. odorata and invasion success was great.
They found that range, harvesting time (i.e. disturbance) and species richness, but not treatment(i.e. control, fungicide, activated carbon), had significant effects on invasion success. The interactions of range × richness, range × time, richness × time and time × range × richness had significant effects on invasion success, whereas interactions among other factors had no significant effects on invasion success. There were significant differences of invasion success between communities with species from Mexico and China.
Harvesting time differentially influenced invasion success, increasing invasion success more greatly in non‐native communities than in native communities. Both functional and phylogenetic distances were correlated with invasion success, with communities of functionally distant close relatives leading to the greatest invader success.
"The main novelty of this study is that it addresses many factors in a single experiment, and by doing so facilitates the identification of key factors explaining successful invasion of C. odorata" said Dr. ZHENG Yulong, the main researcher of the study.
The study entitled "Species composition, functional and phylogenetic distances correlate with success of invasive Chromolaena odorata in an experimental test" has been published in the prestigious journal Ecology Letters.
Contact
ZHENG Yulong Ph.D Principal Investigator
Key Laboratory of Tropical Forest Ecology, Xishuangbanna Tropical Botanical Garden, Chinese Academy of Sciences, Mengla, Yunnan 666303, China
E-mail: zhengyl@xtbg.org.cn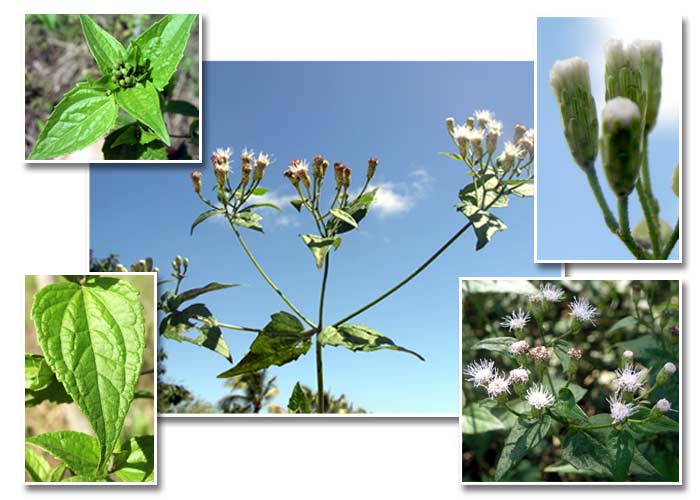 C. odorata at different stages. (Images by ZHENG Yulong)