Modern botanical gardens are global treasures in an age of ecological crisis. They are more than gardens for people to relax. They are scholarly places for the research and conservation of plants.
A national system of Chinese botanical gardens is proposed to be created to promote the development of botanical gardens and serve the ecological civilization.
The news is released from the second congress of the Chinese Union of Botanical Gardens (CUBG) in Beijing on April 25.
"By using the platform of the CUBG, we integrate protection plans of botanical gardens across the country. We aim to further promote development of Chinese botanical gardens by setting up a national system", said Prof. ZHANG Yaping, vice president of the Chinse Academy of Sciences (CAS) and the newly elected chairman of CUBG.
China has more than 200 botanical gardens across 32 provinces, autonomous regions and municipalities.
The member number of CUBG has increased from 50 to 116 since its official inauguration in June 2013.
"Since 2013, CUBG has organized a series of annual workshops on environmental education, horticultural training, plant identification, and others, which has helped improve capacity building of botanical gardens nationwide", said Prof. CHEN Jin, director of Xishuangbanna Tropical Botanical Garden (XTBG) and founding chairman of CUBG.
CUBG highlights the importance of using botanical gardens to protect plant diversity. It has also conducted full-cover conservation plan of native plant species in China and made efforts to save all native plants of China.
"With previous achievement, we are confident to further promote sharing of information and resources among botanical gardens nationwide. By setting up a national system, all botanical gardens can follow standards to develop, document, verify, maintain, share, propagate, and disseminate their plant collections", said representatives at the congress.
The CUBG is jointly sponsored by the State Forestry Administration, the Ministry of Housing and Urban-Rural Development and the Chinese Academy of Sciences. It is a public organization for strategic cooperation among Chinese botanical gardens and arboreta, to integrate plant protection plans.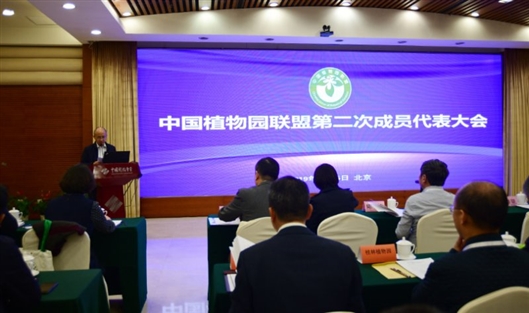 Prof. ZHANG Yaping speaks at the second congress of CUBG. (Image by XTBG)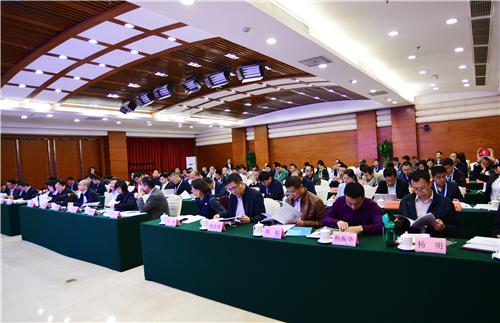 The CUBG meeting. (Image by XTBG)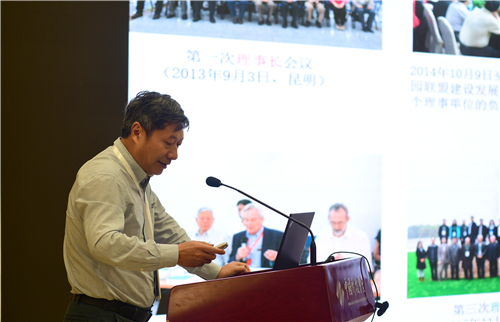 Prof. CHEN Jin reports work over the past years.(Image by XTBG)