BEIJING, May 26 (Xinhua) -- Chinese and Canadian researchers have found a land flowering plant that can use water-mediated fertilization, an ancient mode of fertilization that is considered to have disappeared.
Water-mediated fertilization is very common in early land plants and is generally considered to have been lost during the evolution of terrestrial flowering plants.
Researchers from China's Yunnan University, Xishuangbanna Tropical Botanical Garden, Chinese Academy of Sciences, and the University of Toronto in Canada studied the reproduction mechanism of hardy ginger (Cautleya gracilis).
It is a type of subtropical ginger plant that can produce two types of pollen: granular and filiform.
According to the report published in the journal New Phytologist, on sunny days, hardy ginger plants produce granular pollen which is then transferred by bees.
On rainy days, rain causes granular pollen to form filiform masses which can germinate pollen tubes to mediate the fertilization.
The researchers found that flowers exposed to rain produce significantly more seeds than those protected from rain, which retained granular pollen.
They said that water-mediated fertilization is likely to be adaptive in subtropical monsoon environments and hardy ginger plants use this type of fertilization to ensure reproduction when persistent rain prevents insect-mediated pollination.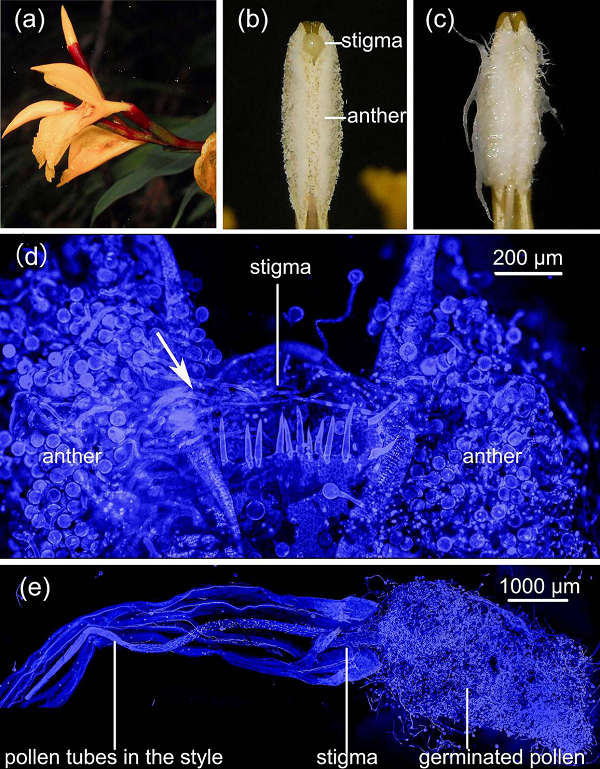 Water-mediated fertilization in Cautleya gracilis, a subtropical terristrial flowering ginger plant.
(Images by FAN Yongli)
URL: http://www.xinhuanet.com/english/2019-05/26/c_138091528.htm?tdsourcetag=s_pcqq_aiomsg