New leadership of Xishuangbanna Tropical Botanical Garden (XTBG) was formed on May 14. Prof. Yang Yongping is appointed as new director and Mr. Gan Fanyuan serves as deputy director and CPC secretary. Prof. Quan Ruichang and Prof. Zhang Jiaolin are deputy directors.
The appointment was released by Prof. Zhou Jie, president of CAS Kunming Branch.
Prof. Chen Jin ceased his role as director, after 15-year continuous service and leading fast development of XTBG.
Prof. Zhou Jie gave positive comments on the work of the former directorate members and showed gratitude to the outgoing director Chen Jin and deputy director Hu Huabin. He encouraged the new leadership, with Yang Yongping as director, to cooperate cordially so as to promote development of XTBG.
"I here express my gratitude to the CAS Presidium and all my colleagues and staff. I feel honored to lead and witness development of XTBG over the past 15 years. With the new leadership, I believe, XTBG and its staff will have a brilliant future," said Prof. Chen Jin in his outgoing speech.
On behalf of the new leadership, Prof. Yang Yongping said that the new leadership will rigorously promote the work of comprehensively strengthening Party discipline, bearing national mission of science strategy and bring the development of XTBG to a new stage.
Zhou Jie conferred certificate of honor to Chen Jin, in recognition of his great contribution to development of XTBG.
Zhou Jie reads out appointment of new leadership
Prof.Chen Jin receives Certificate of Honor
Prof. Yang Yongping

talks about some development plan of XTBG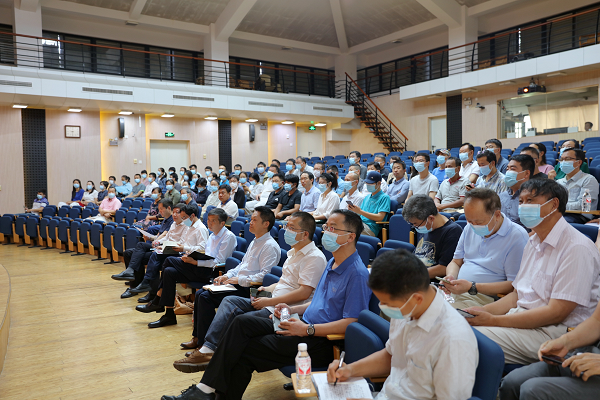 Participants at the meeting