The elephant herd wanders on a mountain ridge, looking for food, in Yuxi, Yunnan province, on Sunday. [Photo by Zhou Xin/for China Daily]
Plentiful food supply, swollen rivers discouraging herd from heading south
A herd of wandering elephants that has received global attention may have a prolonged journey back to their traditional habitat due to their current easy access to food and swollen rivers that are difficult for calves to cross, experts said.
After leaving their forest home in the Xishuangbanna National Natural Reserve in Southwest China's Yunnan province last year, the herd traveled about 500 kilometers northward before reaching Kunming, the provincial capital, on June 2.
The group, currently comprising 14 elephants, has been hanging around the city of Yuxi, also in Yunnan, since leaving Kunming six days later. A male elephant that strayed away about two weeks ago has yet to rejoin the herd.
Preliminary monitoring suggests the herd may be attempting to return to Xishuangbanna, but determining its likely route will need further research, said Shen Qingzhong, the reserve's chief engineer.
With over three decades of experience in research on Asian elephants, Shen has been working with the headquarters in charge of monitoring the herd since May 27.
From 6 pm Thursday to 6 am Friday, the herd moved about 3 km to the southwest-toward their former habitat. However, in the following 24 hours they didn't move much, according to the headquarters.
There is an abundance of crops that elephants like eating on farmland in the area, and that could be a factor making them hesitate to return home, Shen said.
Many areas in the Xishuangbanna reserve are "too well-protected", with the forest becoming so dense in some elephant habitats that the short plants they like to eat struggle to get the sunshine they need to grow, he said.
On its way back home, the herd, which includes two calves, will also encounter many difficulties crossing rivers swollen by the ongoing monsoon, Shen said.
"We are prepared that they will stay for an extended period of time," he said.
Chen Mingyong, a science professor at Yunnan University who has been working with Shen at the headquarters, said he expects the herd will return home in winter.
He said the headquarters is making great efforts to guide the herd to move southward to more suitable habitats.
China's Asian elephants, primarily found in Yunnan, are under A-level State protection. Thanks to enhanced protection efforts, the wild elephant population in the province has grown to about 300, up from 193 in the 1980s.
For over a month, authorities have sent police to escort the herd, evacuated roads to facilitate its passage, and used food to distract the elephants from entering densely populated areas.
In their efforts to send early warnings to residents in villages the herd approaches, monitors from the Yunnan Provincial Forest Fire and Rescue Service and local public security authorities have worked around the clock to monitor the animals with the help of drones and infrared equipment.
In an interview with People's Daily, Ahimsa Campos-Arceiz, a researcher with the Chinese Academy of Sciences' Xishuangbanna Tropical Botanical Garden, not only commended the performance of governments in escorting the herd while ensuring people's safety, but also the country's achievement in protecting the endangered species.
An expert on elephants, he said it would not have been easy to prevent them causing casualties while traveling through so many densely populated areas.
Compared with some other nations that also do well in avoiding human-elephant conflicts, the habitats for elephants in China are more developed and are home to more people, which poses greater challenges in protecting the animals, he said.
Despite the challenges, China has seen its Asian elephant population grow, while those in most other Asian countries where they are found are shrinking, he said.
"So I think that if we can learn from this situation … we will be able to implement similar solutions in other countries that will be developing very rapidly in a few years," he said.
Campos-Arceiz said he expects China will play a leading role in developing "a new model of conserving elephants in the 21st century in highly developed environments".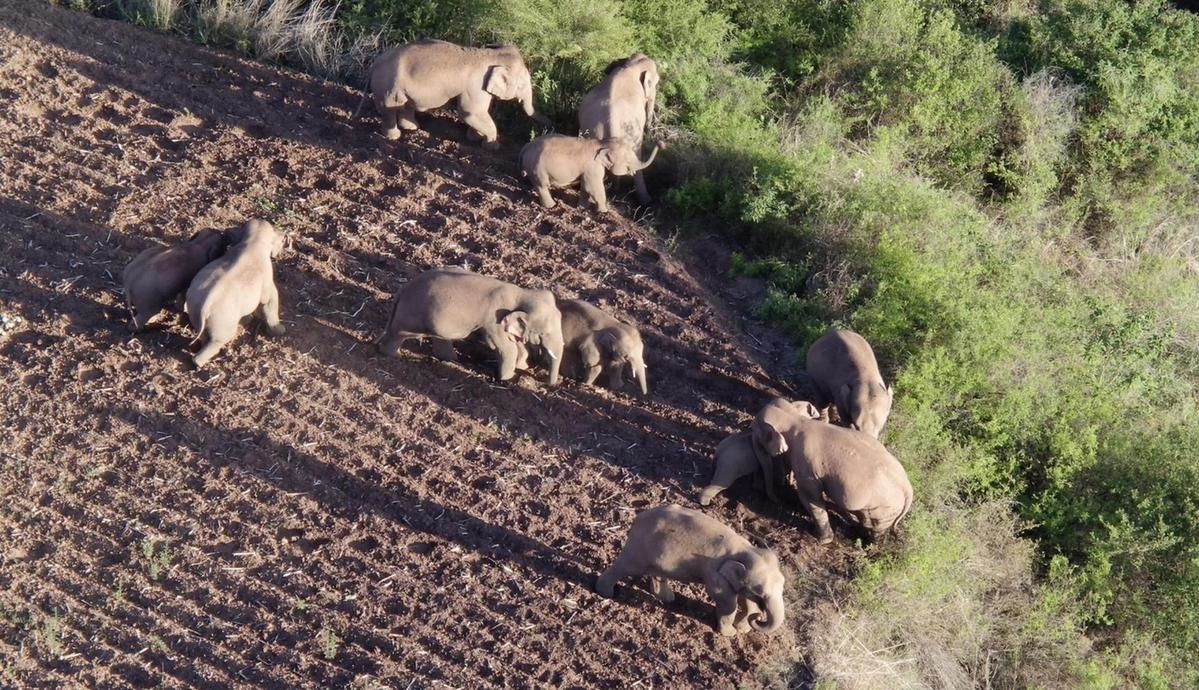 Screen grab from drone video shows the Asian elephants in Eshan county of Yuxi, Southwest China's Yunnan province on June 20, 2021.
China's herd of 14 wandering wild Asian elephants has traveled further north, re-entering Shijie township in Yimen county, in Southwest China's Yunnan province, authorities said on Monday. [Photo/Xinhua]
URL: http://www.chinadaily.com.cn/a/202106/22/WS60d12070a31024ad0baca80e_2.html