When the Luosuo River, the largest tributary of the Lancang River, takes an almost round-about turn in Mengla County of Yunnan Province, it encircles a piece of land blanketed with trees and meadows. On that land lies the largest tropical botanic garden in China that is home to more than 13,000 species of flora.
In a building hidden among the trees is the office of Kyle Warwick Tomlinson, who currently serves as deputy head of the Center for Integrative Conservation at Xishuangbanna Tropical Botanical Garden (XTBG). The Irish native from South Africa has devoted the past years to research on savanna ecosystems and the impact of forest fragmentation in Yunnan and Southeast Asia at large.
Tomlinson arrived in China in 2008, after completing a postdoctoral program at Wageningen University in the Netherlands. At the time, he hadn't considered China as a focus for his research, as he knew little about the country and even less about the relationship between its ecology and his own research. However, after being forwarded the same job advertisement by three different colleagues who had each visited XTBG in the past, he contacted its Center for Integrative Conservation and was invited to visit and interview in person. A visit to XTBG and its surrounding Xishuangbanna Dai Autonomous Prefecture changed his mind about China as a research destination. "Without a physical visit to the location, I probably would not have considered coming here," he told Beijing Review. "At the interview I got to see the institute, its facilities, meet researchers and students there, and see how happy they were and how well they lived. XTBG seemed fabulous!"
Exploring Yunnan
During his years in Yunnan, Tomlinson has traveled widely, sampling the diversity of grassland ecosystems throughout the province. "My research interests mainly focus on open ecosystems such as pure grasslands, savannas and shrublands. These are ecosystems that don't have closed tree canopies like forests," he said. "They occupy most of the [world's] terrestrial surface and account for many thousands of species."
Most people visualize savannas as vast, open, grassy landscapes with sparsely scattered trees, which are common in areas of the African continent that receive less than 700 mm of rainfall per year. "There have been widespread misconceptions about Asian savannas," Tomlinson said. "They are mostly considered to be secondary vegetation created by human disturbance during the Holocene [that began 11,700 years ago]."
However, Tomlinson and his collaborators have dispelled these misconceptions. "They have existed for at least 1 million years, long before widespread landscape modification by humans," they wrote in a published paper.
Their research shows that two species of grass that require high levels of light to grow were present in Yunnan before humans are known to have manipulated fire and thus been able to harness the environment. One of them has been present since the early Pliocene, some 5.3 million to 2.6 million years before present. "These species were sampled across Yunnan and the genetic data suggest that they have had stable populations across huge areas of Yunnan throughout that time. This is strong evidence that the savannas in Yunnan are authentic and deserve stronger conservation," he concluded.
Open ecosystems, such as savannas, are subject to disruption by fire and large mammalian herbivores, which in turn shapes plant forms and functions, he explained. To survive, trees in fire-prone savannas tend to develop thick bark and store resources underground to support regrowth after a fire. Mammalian herbivores feed on plants repeatedly within a year, and may come back to some plants weekly, or even more frequently, to chew their outer parts. In response, plants have evolved to have thorns and prickles as well as dense branching to defend themselves against such animals.
Several countries in Asia, including China, have strict no-fire policies, and wild mammal populations have been decimated by hunting and land use changes across the region, according to Tomlinson. He added that there is sufficient evidence from other parts of the world that fire suppression policies and loss of mammalian herbivores lead to the vegetation converting to closed canopy states. "This is a problem because many of the plant species in these ecosystems are dependent on bright light conditions and they cannot survive in closed forests," he said.
In this context, it is necessary to distinguish derived savannas that have emerged through forest degradation, which are appropriate for reforestation, from ancient savannas that should be conserved for their unique biodiversity, particularly in their herbaceous layers, or groundcovers, and the herbivore communities that they support, he and his coauthors explained in another one of their published papers.
Sharing ideas
During his years working at XTBG, Tomlinson has established an international research team composed of more than 20 young scholars from around 10 countries, and supervised graduate students from China and other countries. In 2017, he was granted an award by the Yunnan authorities for his contribution to promoting the province's international academic exchanges.
In addition, he has been giving seminars at other research institutions where he introduces students to the ecology and conservation of open ecosystems.
Tomlinson's active role is part of XTBG's efforts to build a solid platform for researchers from around the world to share ideas. "We are willing to provide a better scientific research platform for like-minded scientists from other countries," Yang Yongping, Director of XTBG, said.
Data from XTBG show that some 118 scholars from 43 countries and regions have studied and worked in the botanic garden. In the last three years, its researchers have published nearly 1,000 papers in overseas academic journals, including more than 370 in 2020. "More than half of the research results are products of international cooperation," Yang said.
XTBG also manages the Southeast Asia Biodiversity Research Institute, an international scientific research and education institute jointly established by the Chinese Academy of Sciences and corresponding organizations in Myanmar and Laos. "Scientific research cannot be carried out in a closed environment, and it must be cooperative and open," said Chen Jin, one of Tomlinson's colleagues at the garden, when discussing such international partnerships.
Through both its own efforts and international cooperation, China has taken big strides in protecting biodiversity. "Projects like the zero extinction project being run by botanical gardens and the national park initiative are excellent," Tomlinson said. He also has some thoughts about further improvements, including greater transparency and more joint projects in ecological conservation research. As many protected areas are too small to survive without proactive intervention, he also calls for stronger management policies.
Moreover, a stronger program is needed to raise Chinese people's awareness about the impact of their purchasing choices on biodiversity outside China, Tomlinson said, adding that a lot of conservation success comes down to the choices that individuals make that accumulate into a collective response. He suggests this can be aided by better information on product labels that indicates where materials were sourced so that consumers have the option to make more sustainable choices.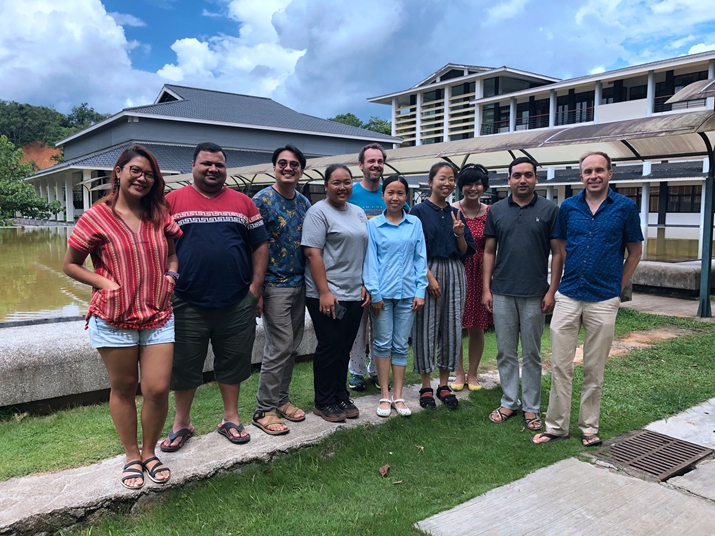 Members of the multinational research group headed by Kyle Warwick Tomlinson (first right) at Xishuangbanna Tropical Botanical Garden (COURTESY PHOTO)
URL: http://www.bjreview.com.cn/China/202110/t20211019_800261021.html