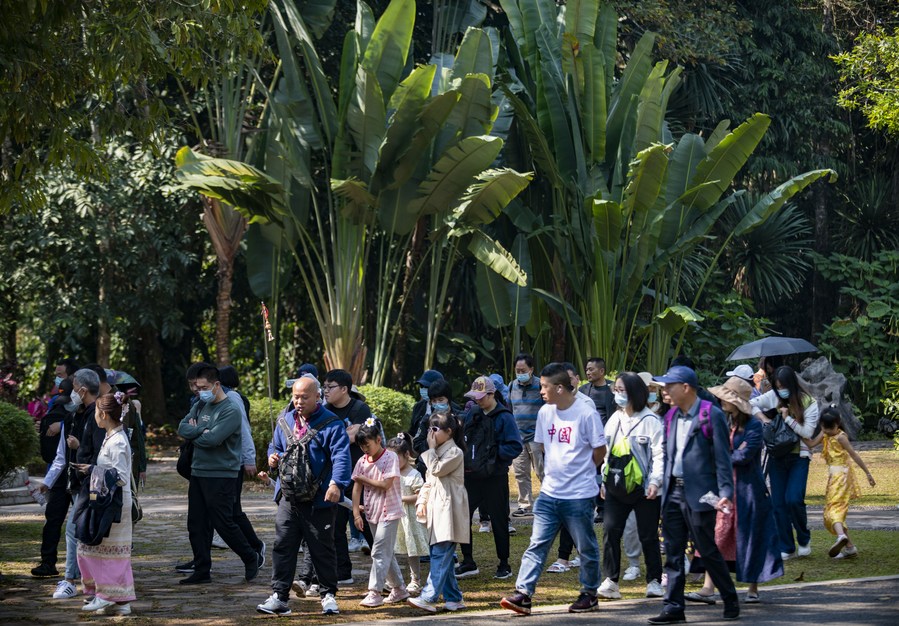 Tourists are pictured at the Xishuangbanna Tropical Botanical Garden of the Chinese Academy of Sciences (CAS) in Mengla County, Xishuangbanna Dai Autonomous Prefecture, southwest China's Yunnan Province, Feb. 12, 2023. (Xinhua/Chen Xinbo)
KUNMING, Aug. 4 (Xinhua) -- Light-weight tourists step onto the pads of giant water lilies, which resemble China's traditional emerald-jade plates on the surface of a pond, and magically find themselves floating smoothly during the joyous adventure.
The pond of magnificent water lilies is one of the most sought-after attractions in the Xishuangbanna Tropical Botanical Garden (XTBG) of the Chinese Academy of Sciences (CAS) in southwest China's Yunnan Province. It becomes all the more popular during summer when students are on their school break.
"Our visitors are mainly student groups or parents with their kids," said Yang Zhen, director of the XTBG's scientific communication team. "One of the XTBG's key functions is to popularize science knowledge, especially on tropical plants and animals."
According to Yang, giant water lilies were originally introduced from the Amazon. The unique leaf veins of giant water lilies provide remarkable buoyancy, enabling them to support individuals weighing up to 70 kilograms.
"However, we are not merely showcasing these water lilies as they are. Our CAS research staff here have nurtured new varieties of giant water lilies that exhibit greater resilience to low temperatures," Yang said.
As one of the largest and most diverse botanical gardens in China, the XTBG not only holds an AAAAA-level scenic spot rating (the highest ranking in China) but also serves as a comprehensive research institution. Inside the 1,125-hectare garden, there is a 250-hectare patch of preserved virgin tropical rainforest and over 13,000 plant species.
Now the majority of the botanical garden is accessible to the public. This means that the plants that visitors encounter might be the subjects of scientific research, said Yang.
"As researchers, we would also join in activities to popularize science knowledge," said Wang Gang, a researcher at XTBG. "People often approach us with questions like 'Is this plant edible?' or 'Is this plant poisonous?'"
The XTBG has also launched its official channel on the social media app WeChat. The channel features posts introducing the XTBG's latest research outcomes in reader-friendly language.
The XTBG epitomizes China's endeavor to advance biodiversity ecological civilization by engaging both academia and the public.
In 2021, China held the first phase of the 15th meeting of the Conference of the Parties to the Convention on Biological Diversity in Kunming, the capital of Yunnan.
"Yunnan, as one of the most biologically and culturally diverse regions on earth, is well-suited to serve as a medium for connecting people in the world through biodiversity," said Yang.