Officials in Xishuangbanna have been promoting farming of the hemp, with hemp variety Yunma No.1 as the major seed, since 2004, to help raise the living standard of farmers. XTBG has palyed an important role in the screening and rapid propagation of new hemp varieties. Up to now, a series of hemp varieties tested to be without a narcotic component for industrial use has been screened by XTBG researchers.
Over the past five years, XTBG set up a hemp research base in Mengsong Township, Menghai County in Xishuangbanna, a mountainous region in Yunnan. The screening and high-yield cultivation practice has got success and helped resolve the bottleneck problem of single variety of Yunma No.1.
On July 28, Prof. Chen Jin, director of XTBG, made field visit to the hemp research base at the invistation of Mr.Jiang Pusheng, Communist Party chief of Xishuangbanna.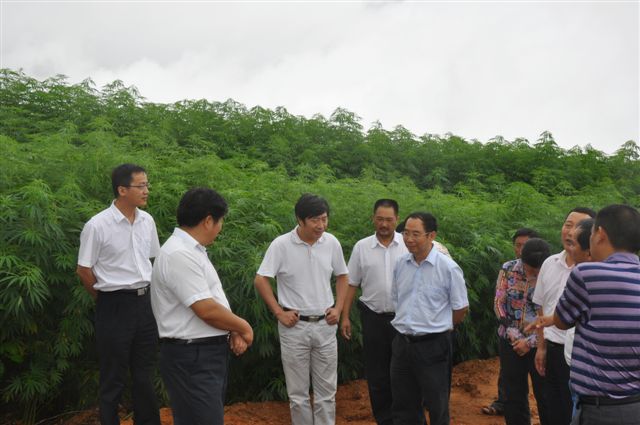 The CPC secretary of Xishuangbanna spoke highly of XTBG's contribution to the sustainable developmeny of hemp industry. XTBG-locality cooperation witnessed great progress.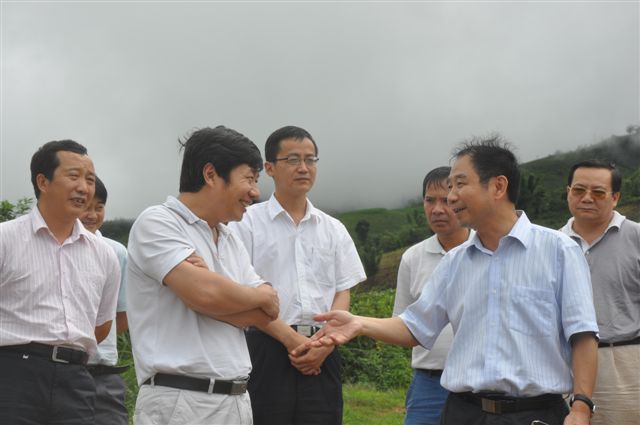 "The hemp contains less than 0.1 percent of tetrahydrocannabinol, or THC, the key ingredient in marijuana, while the Cannabis grown for marijuana can contain up to five percent of THC or even more", said researchers.
Link:
The birthplace of hemp is China. Archaeological discoveries show that we can backdate its self-sown growing to between 6,000 to 9,000 years ago. Archaeological specimens also show that, about 4,000 years ago, the Chinese people started widely growing the crop for food and clothing. Chemical analysis shows no THC in these specimens. About 3,000 years ago, hemp was introduced to India and then some mutative varieties of the plant appeared which have high content of THC and of course the variety with high THC content has other names as hashish or marijuana. In China, the growing of hemp is under the control of the Narcotics Control Bureau of the Ministry of Public Security. In recent years, China has developed Yunma 1 and Yunma 2 as varieties of very low THC content meeting the international standard for hemp.
Hemp is indeed an ideal non-food crop for China, because both agricultural production and industrial production benefit a lot from this crop, and it contributes so much to improvement of the environment and the food security
Not only fibres are used from the hemp plant, but full use is made of all parts of this crop for different industries and applications. For example:
•Hemp core hurd(shiv) is used for wood plastic composite and activated carbon
• Hemp seed is used for edible oil, healthcare oil, cosmetics & lotions
• Hemp leaves and flowers are used to produce medicines
• Hemp roots will not be thrown away but used as combustibles