Climatic stresses, which include high and low temperatures, are the major factors that limit the geographic distribution of plants. Plants have evolved multiple strategies to adapt to climatic stresses, for example, through adaptations in terms of phenology, morphology and microhabitat preference, and adjustments in physiological and biochemical states.
Dr. Zheng Guowei of KIB and Dr. Tian Bo of XTBG and other colleagues hypothesized that plants maintain the same degree of unsaturation of membrane lipids and instead vary the lipid composition of the membrane by mechanisms that require less energy, to adapt to environments with frequent changes between high and low temperatures.
To test the hypothesis and to characterize the changes in plant lipids that occur in environments with frequent alterations between high and low temperatures, the researchers conducted both field and laboratory experiments.
The field experiments were conducted in an alpine scree ecosystem of the Hengduan Mountains, southwest China, which has extreme environmental conditions, in particular, high daytime and low night-time temperatures.
To exclude the potential effects of strong solar and ultraviolet (UV) radiation, which can occur in the field, a laboratory experiment was conducted in a growth chamber with daily temperature cycles of heat during the day and freezing during the night.
Changes in the molecular species of membrane lipids were profiled in two representative species of alpine scree plants (Saussurea medusa and Solms-Laubachia linearifolia), as well as one alpine plant species (Crucihimalaya himalaica) and the model plant Arabidopsis thaliana, during alterations between high and low temperatures.
The researchers propose two working models in which the turnover of membrane lipids and the degree of unsaturation of these lipids play different roles and allow plants to respond to these two types of temperature change at the biochemical level.
The research found that plants employed lipid remodelling to adjust their membrane composition to cope with frequent alterations in temperature, because lipid turnover via the exchange of head groups is rapid and incurs a low energy cost. In contrast, plants employed both lipid remodelling and changes in the degree of unsaturation to adjust the membrane composition to cope with infrequent temperature change.
The study entitled "Plant adaptation to frequent alterations between high and low temperatures: remodeling of membrane lipids and maintenance of unsaturation levels" has been published in Plant, Cell & Environment, 34 (9): 1431-1442, 2011. DOI: 10.1111/j.1365-3040.2011.02341.x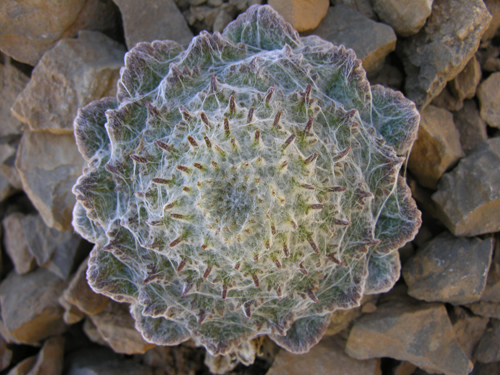 Saussurea medusa (image by ZHENG Guowei)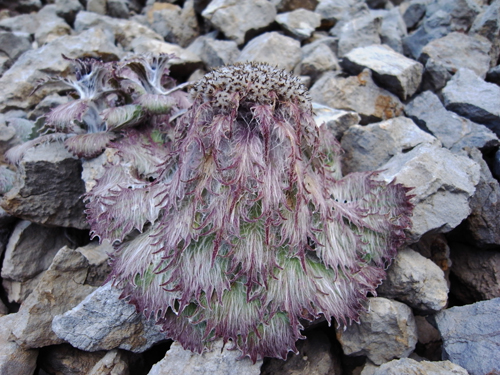 Saussurea medusa (image by ZHENG Guowei)