The Persea group is a subset of the family Lauraceae. It consists of seven currently recognized genera. It has a tropical and subtropical amphi-pacific disjunct distribution with most of its members, and it includes two Macaronesian species. The relationships within the group are still controversial, and its intercontinental disjunction has not been investigated with extensive sampling and precise time dating.
  Prof. LI Jie and his team of Xishuangbanna Tropical Botanical Garden (XTBG) chose the LEAFY second intron (LEAFY intron II), along with the ITS sequence, for the phylogenetic reconstruction in their study. Objectives of the study were to (1) explore the phylogenetic utility of LEAFY intron II within the Persea group, (2) elucidate the phylogenetic relationships within the Persea group, and (3) explain the biogeographic disjunction patterns of the Persea group.
  Based on the phylogenetic analysis of ITS and LEAFY intron II sequences, several traditional genera or subgenera form well-supported monophyletic groups except Alseodaphne and Dehaasia.
  The researchers suggested that the Persea group originated from the Perseeae-Laureae radiation in early Eocene Laurasia. The tropical and subtropical amphi-pacific disjunction pattern of the Persea group probably resulted from the disruption of the boreotropical flora by climatic cooling during the mid- to late Eocene. The American–Macaronesian disjunction pattern in the Persea group may be explained by long-distance dispersal.
The study entitled "Molecular phylogenetic analysis of the Persea group (Lauraceae) and its biogeographic implications on the evolution of tropical and subtropical Amphi-Pacific disjunctions" has been published online in American Journal of Botany, 98 (9): 1520-1536. doi: 10.3732/ajb.1100006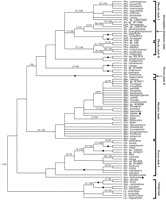 Bayesian consensus tree based on ITS data. (image by LI Lang)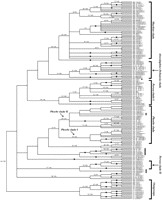 Bayesian consensus tree based on LEAFY intron II data. (Image by LI Lang)