Jatropha curcas L., belonging to the family Euphorbiaceae, has been traditionally used as a living fence against domestic animals and for fertilizer, medicine production and control of soil erosion. It is now considered as a potential biodiesel feedstock plant. It can produce non-edible seeds with high oil content (up to 40%). However, little is currently known about the seed biology of Jatropha. Therefore, it would be valuable to understand the mechanisms of development and lipid metabolism in Jatropha seeds, which would be helpful in using genetic engineering to develop new Jatropha cultivars.
Prof. XU Zengfu of Xishuangbanna Tropical Botanical Garden (XTBG) and his colleagues sequenced the 5′-ends of about 10,000 cDNA clones randomly selected from three cDNA libraries derived from different developmental stages of Jatropha seeds. A large number of putative genes associated with signal transduction, synthesis of storedreserves, and metabolism and transport of amino acids, lipids, and proteins, have been identified.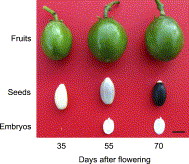 Jatropha curcas fruits, seeds and embryos at different developmental stages.
Seeds were harvested at 35–55, 56–70 and 71–95 days after flowering (DAF). Total
RNA was extracted from embryos to construct cDNA libraries. Scale bar = 1.0 cm. (Image by Chen Maosheng)
In their study, three cDNA libraries were constructed with mRNA from developing Jatropha curcas embryos. A total of 9844 expressed sequence tags (ESTs) were produced from those libraries. A total of 1070 contigs and 3595 singletons were obtained from those ESTs. A total of 1070 contigs and 3595 singletons were obtained from those ESTs. 59 unigenes that may be involved in Jatropha seed development are identified. 61 unigenes that may participate in lipid metabolism in Jatropha seed are identified.
The study provided a basis for understanding the mechanism of seed development and lipid metabolism in Jatropha. Moreover, the study can also provide a valuable resource for the cloning of new genes, annotation of genomic sequences and the development of molecular markers for gene mapping, polymorphism and marker-assisted selectionbreeding of Jatropha, which are prerequisites for the application ofgenetic engineering inJatropha breeding.
The research entitled "Analysis of expressed sequence tags from biodiesel plant Jatropha curcas embryos at different developmental stages" has been published online in Plant Science, doi:10.1016/j.plantsci.2011.08.003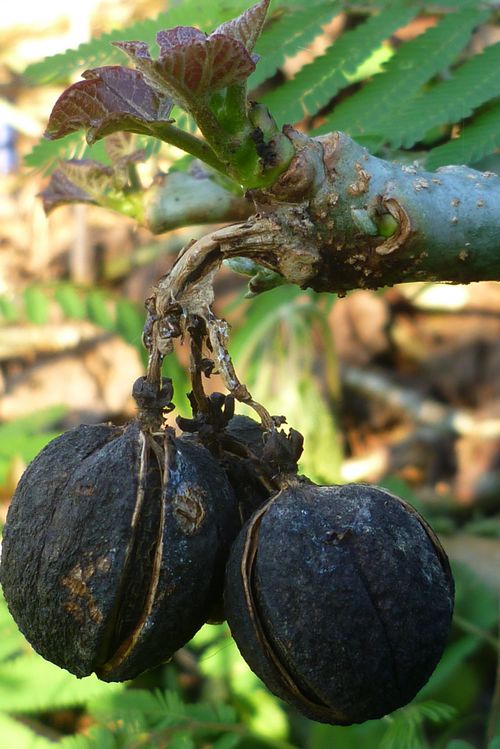 (Image by XTBG)
Abstract http://www.sciencedirect.com/science/article/pii/S016894521100224X