The black-and-white snub-nosed monkey (Rhinopithecus bieti) is an important flagship species of the "Mountains of Southwest China Biodiversity Hotspot". It is endemic to the Trans-Himalayas between Yunnan and Tibet, bounded by the upper Yangtze and Mekong Rivers. It was categorized as Endangered (C1) on the IUCN Red List of 2010, and is in the First Class of State Key Protected Species in China. Environmental factors that affect spatiotemporal distribution patterns of animals usually include resource availability, temperature, and the risk of predation. However, they do not explain the counterintuitive preference of high elevation range in winter Rhinopithecus bieti.
Dr. QUAN Ruichang of Xishuangbannna Tropical Botanical Garden (XTBG) and his colleagues proposed a sunshine hypothesis, i.e. whether variation of sunshine along with elevations is the key driving force, to explain the winter distribution pattern of R. bieti.
The study was carried out at the southeastern Tibetan Plateau (98°34′–40′E, 29°13′-18′N) with an elevation range between 3200 m and 4500 m. The researchers employed GIS technology to quantify solar radiation and sunshine duration across the monkey's range.
The researchers first set out to demonstrate that there was a statistically significant pattern of high elevation use by the monkeys during winter months. They then asked whether the pattern could be explained by certain environmental factors, namely temperature, sunshine duration and solar radiation. Next, they limited their focus to the winter range only and asked the same questions: was there a strong habitat preference within that range and could that preference be attributed to sunshine duration and solar radiation. Finally, they concluded with a possible ecological mechanism for the high elevation use pattern.
The researchers concluded that sunshine was the main factor that influences selection of high elevation habitat for R. bieti in winter. Since some other endotherms in the area exhibit similar winter distributional patterns, the researchers developed a sunshine hypothesis to explain that phenomenon.
The study entitled "Why Does Rhinopithecus bieti Prefer the Highest Elevation Range in Winter? A Test of the Sunshine Hypothesis" has been published in PloS One, 6(9): e24449. doi:10.1371/journal.pone.0024449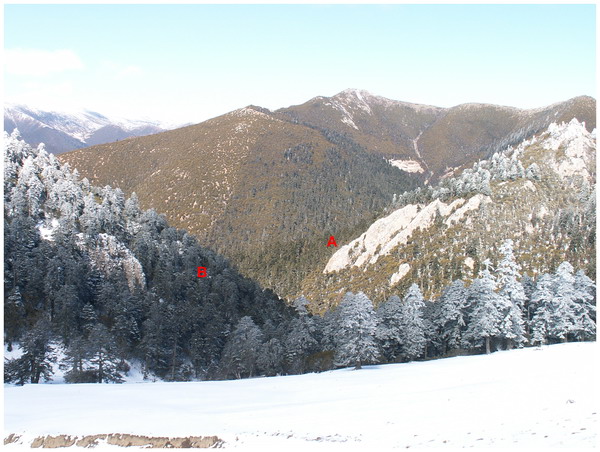 Two neighboring ranges (A and B) with different amounts of solar radiation on the second day after snow. (Image by Quan Ruichang)