Tannins are a diverse group of water-soluble phenolic compounds that have a high affinity for proteins, and are widely distributed in various parts of plants. One of the roles of tannins in plant tissues is to provide defense against herbivorous animals.
Dr. WANG Bo and his teacher Prof. Chen Jin of Xishuangbanna Tropical Botanical Garden (XTBG) have previously studied the effects of seed size, nutrient and tannin content on rodent caching behaviors. To further explore how seed tannin concentrations influence rodent foraging behavior, the researchers manipulated seed abundance and the tannin content levels of background seeds by using an artificial seed system. Furthermore, to better understand how tannin concentrations in food affect rodent physiology and health, they fed 2 dominant rodent species (Apodemus latronum and Apodemus chevrieri) diets containing different tannin concentrations.
The study was carried out in a pine forest in Shangri-La Alpine Botanical Garden (27°54'N, 99°38'E, altitude 3456 m), Hengduan Mountains, Yunnan, southwestern China.
The researchers combined feeding trials and field observations to examine the overall impact of seed tannin concentrations on rodent behavior and health. They found that rodents favored seeds with an intermediate amount of tannin (~5%) in the field. The predominant selection of seeds with intermediate tannin content (5%) was exactly in accordance with the feeding experiment. The survival time of rodents fed diets with 25% tannin content was significantly shorter than all other treatments. In addition, the health of rodents fed diets with 15% and 10% tannin content was significantly negatively impacted.
The research results clearly demonstrate that scatter-hoarding rodents prefer slightly 'astringent' food. In the co-evolutionary arms race between plants and animals, their results suggest that while tannins may play a significant role in reducing general predation levels by the faunal community, they have no precise control over the behavior of their mutualistic partner. Instead, the two partners appear to have reached an evolutionary point where both parties receive adequate benefits, with the year-to-year outcome being dependent on a wide range of factors beyond the control of either partner.
The study was supported by the National Basic Research Program of China (973 Program-2007CB411603) and the National Natural Science Foundation of China (31100315).
The study entitled "Scatter-hoarding rodents prefer slightly astringent food" has been published in PloS ONE, 6(10): e26424. doi:10.1371/journal.pone.0026424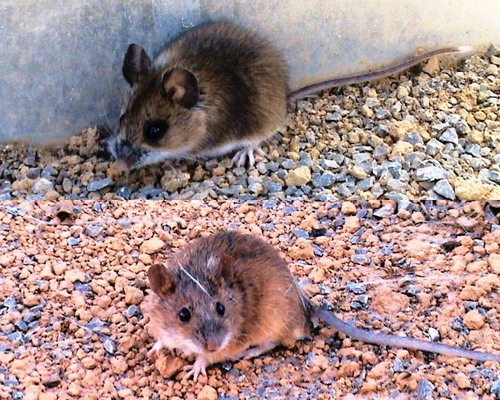 Rodents (Image by WANG Bo)