The soil seed bank is a reserve of mature viable seeds located on the soil surface or buried in soil, duff or litter. Seeds in a persistent soil seed bank (PSSB) provide an effective way to maintain plant population and community stability.However, a lot of functional roles of the PSSB have been deduced from seed germination capability, and little consideration has been given to interspecific and intraspecific competitive ability of the resulting plants.
 Eupatorium adenophorum is a multi-stemmed erectperennial herb of the family Asteraceae that was introduced from its native range of occurrence in Mexico to Europe, Australia and Asia as an ornamental species. Dr. Shen Youxin and his colleagues of Xishuangbanna Tropical Botanical Garden (XTBG) selected it as their study species to investigate the effect of seed aging under natural conditions on germination and competitive ability of resulting persistent soil seed bank plants.
  The researchers hypothesized that aging would cause a decrease in survival rate and that plants from PSSB seeds would be less competitive than those from fresh seeds of the same population. To test that, they aged the seeds of Eupatorium adenophorum in the soil for 1–4 years. Germination was tested every year and competition between plants resulting from 3-year-old PSSB seeds and plants from freshly produced seeds was tested at different densities to examine whether there was any delay in germination of a seed cohort and whether the competitiveability of resulting PSSB plants was reduced.
  Their study found that (1) although seeds stored in soil exhibited a very high death rate, they maintained a high vigor for germination, and (2) resulting plants from PSSB seeds exhibited good competiveness to plants from new seeds of the same population. The results further confirm the significance of PSSB in maintaining stability of plant populations and communities.
  In southern China, Eupatorium adenophorum has a very high seed density in the soil seed bank under various vegetation cover, and nearly half of the seeds are located below soil surface, which means that a huge PSSB is formed.The high density of seeds will ensure a long occupation time of sites and maintain the possibility for invasion even in a bad seed production year. The result provides another clue explaining why E. adenophorum has a high invasibility, making control and management of it very difficult.
    The study entitled "Seed vigor and plant competitiveness resulting from seeds of Eupatorium adenophorum in a persistent soil seed bank" has been published in Flora:206 (11): 935– 942, doi:10.1016/j.flora.2011.07.002.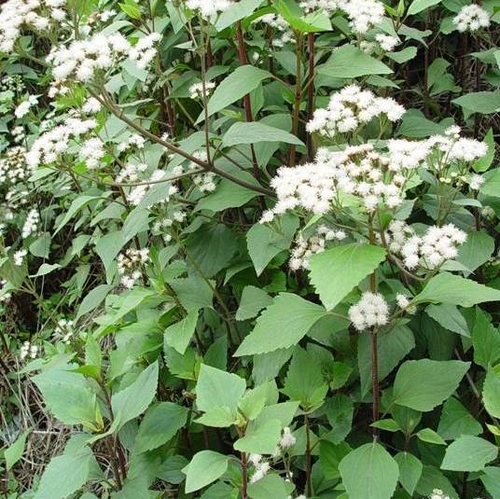 Eupatorium adenophorum (Image by Shen Youxin)