Understanding how the evolution of plant traits is influenced by interactions with animals is central to the study of the evolutionary ecology of plant–animal interactions.
Dr. CHEN Fan and his supervisor Prof. CHEN Jin of Xishuangbanna Tropical Botanical Garden (XTBG) selected Pinus armandii, a species of evergreen pine native to China, as their study target to determine the variation in seed dispersal traits among populations within a relative small geographic scale and furthermore to explore if the trait differentiation results in the differences in dispersers, in particular nutcrackers (Nucifraga caryocatactes) and scatter-hoarding rodents. The study was conducted in the Hengduan Mountains in Diqing prefecture, northwest Yunnan Province, China.
The researchers firstly examined geographic variation in cone and seed traits of Pinus armandii across a limited geographic range. Then they examined the behavior and preference of the two major dispersers, nutcrackers and scatter-hoarding rodents, for seeds with different phenotypes. They predicted that geographic variations of cone and seed traits could be caused by contrasting seed disperser communities in different sites.
The study found that pine showed significant differences in cone and seed traits among populations. The seed dispersers in different sites also showed different responses to those traits.
Although it is premature to state the local matching between animal and plant traits is an outcome of an evolutionary adjustment between the interactors, the study provided an interesting system to show a potential selection mosaic on cone and seed traits of a long-lived perennial tree among populations with limited geographical range.
 The study entitled "Dispersal syndrome differentiation of Pinus armandii in Southwest China: Key elements of a potential selection mosaic" has been published in Acta Oecologia, 37 (6): 587-593, doi:10.1016/j.actao.2011.05.009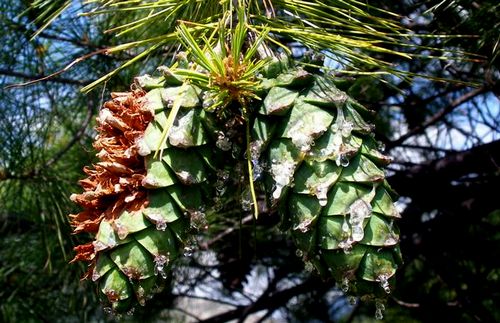 Pinus armandii (Image by CHEN Fan)