In recent years, the local people of Xishuangbanna (southwest edge of China) are faced with surface water shortages in dry season after several decades of rubber-tree planting. Rubber plantations were then called "water pumps". Governments, however, argue that rubber plantations exhibit similar hydrology to rain forests and will not cause water shortage, in defense of their forestry policies. Nevertheless, no observational data but only official remarks were provided to support these opinions.
With an aim to test whether the large-scale rubber plantations cause water shortages in dry season in Xishuangbanna, Prof. Zhang Yiping of Xishuangbanna Tropical Botanical Garden (XTBG) and his colleagues conducted a research program. The researchers used 15 years (1994-2008) of paired-catchment water observation data and one year of paired eddy covariance water flux data in primary rain forest and rubber plantation to examine how rubber plantation affects local water resources of Xishuangbanna.
Both long-term catchment water observations and direct eddy covariance estimates indicate that more water was evapotranspired from rubber plantation than from the rain forest. In the rubber plantation, water stored during the rainy season was not sufficient to maintain evapotranspiration, which led to zero flow during the dry season. Those factors caused local water resource shortages.
The study supports the idea that rubber plantations act as water pumps as suggested by locals.
  The study entitled "Rubber plantations act as water pumps in tropical China" has been published online in Geophysical Research Letters, 38, L24406, doi:10.1029/2011GL050006.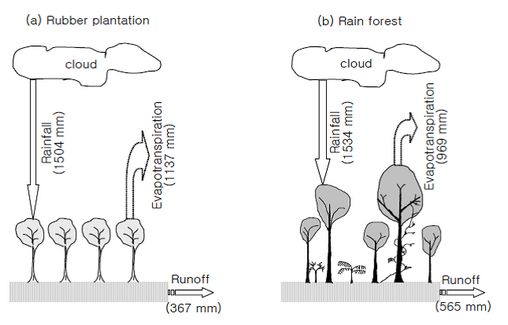 (Image by TAN Zhenghong)