Xishuangbanna is biogeographically located at a transitional zone from tropical Southeast Asia to subtropical East Asia. The tropical climate with high temperature, lots of rain and the alternation of dry and rainy seasons provides a favorable ecological environment for the growth and succession of multi-plants and the tropical rainforests. Xishuangbanna is reputed as an Oasis in the Desert Zone of the Tropic of Cancer.
As a kingdom of flora and fauna, Xishuangbanna is an ideal place for studying tropical rainforest ecology and biodiversity conservation.
Prof. Zhu Hua of Xishuangbanna Tropical Botanical Garden (XTBG) has been dedicated to botanical studies in Xishuangbanna for tens of years. According to him, the flora of Xishuangbanna consists of a recorded 3336 native seed plant species, among which 83.5 percent are tropical genera and 32.8 percent are endemic to tropical Asia. Based on his previous studies, Prof. Zhu Hua compiled a book named Native Seed Plants in Xishuangbanna of Yunnan.
The Native Seed Plants in Xishuangbanna of Yunnan recorded native seed plants belonging to 1242 genera in 188 families, including 3856 species, 39 subspecies, 252 varieties, and 5 variants. All the plant species listed in the book are all appendiced with the voucher specimens or reference documentation and the keeping herbaria.
For some important plant species, their common synonyms were given. The distribution areas in both China and abroad, the elevation range and habitats in Xishuangbanna were listed. For some plants of economic significance, their uses were included in the book.
The monograph Native Seed Plants in Xishuangbanna of Yunnan, with Prof. Zhu Hua as editor-in-chief will be soon published by Science Press.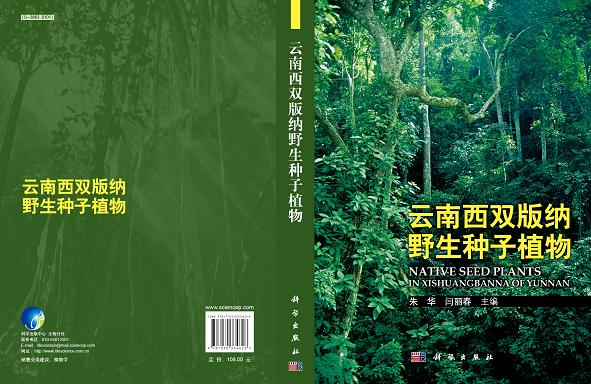 Cover of Native Seed Plants in Xishuangbanna of Yunnan