Bamboos, the tallest of grass species, are a critically important group of plants both ecologically and economically. They can grow up to 32 m in height, but its physiology is little known and the processes that constrain plant height in this important group have never been investigated.
Prof. Cao Kunfang of Xishuangbanna Tropical Botanical Garden (XTBG) and his students hypothesized that root pressure-dependent refilling of vessels in stems and leaves may limit the maximum height of grass species to the magnitude of their root pressure. They examined the relationship between maximum height and root pressure in bamboo species. Bamboo species provide an excellent opportunity to examine the relationship between plant height and root pressure because they are highly speciose and encompass an enormous size range, from dwarf species <1 m tall to tropical species reported to reach heights of almost 40 m.
The study was conducted in two of the most comprehensive living collections of bamboos in China, Xishuangbanna Tropical Botanical Garden (XTBG – 21°41′ N, 101°25′ E) in southern Yunnan Province and Anji Bamboo Expo Park (ABEP – 30°37′ N, 119°41′ E) in Zhejiang Province.
The study showed that maximum size in bamboo species was determined below ground by the maximum pressure that can be generated in roots overnight. It demonstrated that water transport in the bamboo species was dependent on root pressure to repair hydraulic dysfunction sustained during normal diurnal gas exchange.
The remarkable observation puts an entirely novel perspective on the processes that limit plant size, particularly in grasses, and places considerable emphasis on the importance of root pressure for the function and development of plant species.
The study entitled "The maximum height of grasses is determined by roots" has been published online in the prestigious Ecology Letters, DOI: 10.1111/j.1461-0248.2012.01783.x.
The study was funded by the Australian Research Council (FT1010237 and DP120101686) and a visiting scholarship from Xishuangbanna Tropical Botanical Gardens to Tim J. Brodribb.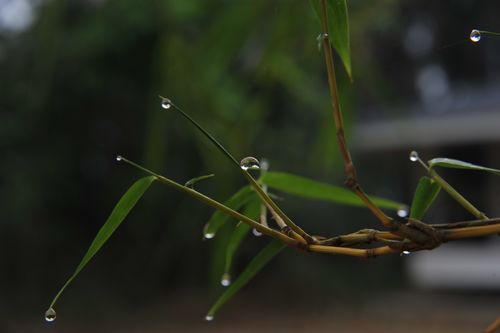 Root pressure leads to guttation in bamboos (Image by Yang Shijian)