Eupatorium adenophorum is native to Central America and globally noxious invasive perennial forbs throughout the subtropics. It spread into Yunnan Province from Burma in the 1940s, and now it has invaded in six provinces in Southwest China. Prof. Feng Yulong and his research group of Xishuangbanna Tropical Botanical Garden (XTBG) have been focusing on studying invasion ecology of Eupatorium adenophorum for many years. Their pervious study has showed that E. adenophorum has higher performance than native congeners (Eupatorium japonicum L. and Eupatorium heterophyllum DC) in diverse irradiances. However, the physiological mechanisms associated with the higher performance of E. adenophorum were unclear, and the relationship between plasticity of physiological traits and invasiveness was also not tested.
To explore the traits contributing to invasiveness of Eupatorium adenophorum and to test the relationship between plasticity of those traits and invasiveness, Prof. Feng Yulong and his team compared E. adenophorum with its two native congeners at four irradiances (10%, 23%, 40%, and 100%) . They first explored which physiological traits contributed to the higher performance of the invader. Then they analyzed the relationships between invasiveness and plasticity of those physiological traits and performance.
The study was carried out at Xishuangbanna Tropical Botanical Garden (21°56′N, 101°15′E) of Chinese Academy of Sciences located in Mengla County, Yunnan Province, southwest China.
The study found that the constantly higher photosynthetic rate, respiration efficiency, nitrogen and water (at 40% and 100% irradiances) of E. adenophorum relative to its native congeners contributed to its higher relative growth rate and total biomass across irradiances. The invader had consistently higher plasticity only in carotenoid than its native congeners in ranges of low (10–40%), high (40–100%) and total (10–100%) irradiances, contributing to invasion success in high irradiance by photo protection. In range of low irradiance, the invader had higher plasticity in some physiological traits (total leaf nitrogen content, nitrogen content in carboxylation, nitrogen content in bioenergetics, nitrogen content in light-harvesting components, leaf chlorophyll content and carotenoid) but not in performance.
The results indicated that the relationship between invasiveness and plasticity of a specific trait was complex. The role of plasticity in invasion success may be different in different environments, and a universal generalization about the relationship might be too simplistic.
The study entitled "Comparisons of plastic responses to irradiance and physiological traits by invasive Eupatorium adenophorum and its native congeners" has been published online in Journal of Plant Physiology, 169(9): 884-891, http://dx.doi.org/10.1016/j.jplph.2012.02.011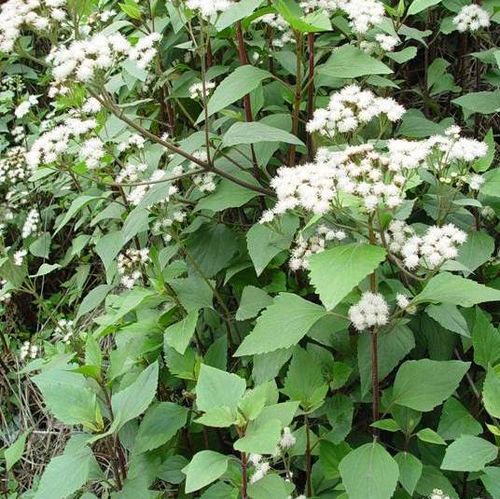 Eupatorium adenophorum (Image by Zheng Yulong)