Epipogium roseum is widely distributed in tropical and subtropical Asia, Australia and Africa. It usually appears on thick humus on wet deciduous forest floors protected by a dense canopy. It is a saprophytic orchid. Xishuangbanna is one of the most orchid-rich areas in China. However, little is known about the reproductive biology and pollination system of orchids in this area.
 Prof. Gao Jiangyun and his research team of Xishuangbanna Tropical Botanical Garden (XTBG) conducted a study to investigate the floral biology and insect visitation of E. roseum in Xishuangbanna, where the species occur naturally. Their study focused on (1) how does E. roseum accomplish autonomous self-pollination; (2) does this species successfully attract insect visitors; and (3) can this species accomplish outcrossing?
  The study was conducted in the Green Limestone Forest Park (21°41′ N, 101°25′ E; alt. 580 m), located in southern Yunnan Province, China.
  The anatomical study revealed that in E. roseum autonomous self-pollination occurs at the bud stage before the flowers open. In the manipulation experiments, no fruit was found in the emasculation treatments, which suggested that fruit set results from autonomous self-pollination, and has nothing to do with insect visitation in E. roseum.
E. roseum was able to successfully attract insect visitors, but the Asian honey bee (Apis cerana cerana) was the only visitor of E. roseum observed during ~96 h of observation over 2 years. The visiting frequency of Asian honey bees to flowers of E. roseum varied both spatially and temporally.
In addition, the study found that E. roseum has lost the capacity for outcrossing by insects due to the absence of a viscid disk, and appears to be adapted to an obligate self-pollination strategy.
The study entitled "Autonomous self-pollination and insect visitation in a saprophytic orchid, Epipogium roseum (D. Don) Lindl" has been published in Australian Journal of Botany, 60 (2): 154-159, http://dx.doi.org/10.1071/BT11265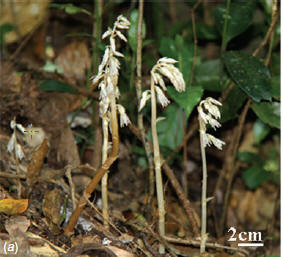 Inflorescences of E. roseum appear on highly shaded forest floors with thick leaf-litter.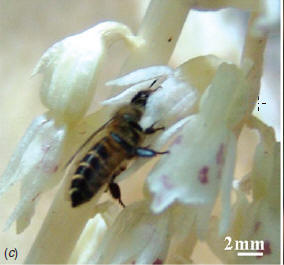 an Asian honey bee visiting a flower of E. roseum (Images by Zhou Xiang)