Sycomorus is the most diverse subgenus of Ficus (figs), a ubiquitous component of tropical rainforests. It is a species-rich, phenotypically diverse, widely distributed and ecologically important. Dr. Rhett Harrison of Xishuangbanna Tropical Botanical Garden (XTBG) and his colleagues examined the evolution of fruit traits in Sycomorus.
They employed multiple genetic loci (5 kb) to reconstruct the evolutionary history of Sycomorus. Then they examined the evolution of fig colour (red or green), size and placement with respect to other functional traits, including breeding system, maximum plant and leaf size, and biogeography. Specifically, they asked whether patterns of trait correlations were consistent with dispersal agents as the primary selective force shaping fruit morphological diversity or if other ecological factors might provide a better explanation.
Their study found that in Ficus subgenus Sycomorus fig fruit colour, size and placement were highly evolutionarily liable and similar fruit traits have evolved in regions with substantially different frugivore assemblages. Fig fruit colour and size were significantly associated with plant life-history traits (plant maximum size and leaf area, respectively) and fig placement, after controlling for phylogenetic autocorrelation.
In addition, they argued that other aspects of plant ecology, such as phenology, nutrient status, and habitat preference, have been important in constraining fig fruit placement.
The researchers thus suggested that the role of dispersal agents may have been comparatively minor in determining fruit traits in these figs, relative to plant-life history and other aspects of their ecology.
The study entitled "Evolution of Fruit Traits in Ficus Subgenus Sycomorus (Moraceae): To What Extent Do Frugivores Determine Seed Dispersal Mode?" has been published in PLoS ONE 7(6): e38432. doi:10.1371/journal.pone.0038432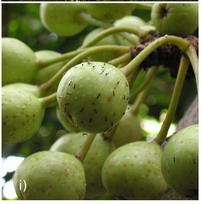 Male fig of F. variegata with non-pollinating wasps (Sycophaga sp.) ovipositing through the wall. (Image by Rhett Harrison)