Chromolaena odorata was found in Yunnan Province in 1934, and now has become a noxious invader of the tropics and subtropics. Many studies have explored the evolutionary changes in resistance of invasive Chromolaena odorata, but little has been done to address tolerance,the degree to which plant fitness is affected by herbivory.
Prof. Feng Yulong and his team of Xishuangbanna Tropical Botanical Garden (XTBG) hypothesized that invasive Chromolaena odorata may evolve decreased tolerance and increased growth in response to enemy release in introduced ranges.
To test the hypothesis, they compared the differences in total biomass, flower number, and tolerance to simulated herbivory between plants from invasive and native populations of Chromolaena odorata at two nutrient levels. The main purposes of the study were to reveal (1) whether plants from invasive populations have evolved to decrease tolerance and increase total biomass and flower number (fitness) after introduction; (2) the mechanisms underlying tolerance; and (3) the effects of nutrient availability on tolerance and its mechanisms.
The study found that C. odorata from invasive populations did not show lower tolerance against simulated herbivory and higher fitness than plants from native populations. The invader had a strong tolerance, as judged by the results that it fully compensated for reproduction (flower number) after 50 % of total leaf area was removed, and survived successfully and achieved substantial regrowth after complete shoot damage. Changes in resource allocation (increasing allocation to reproduction) and use of storage reserves in roots contributed to the strong tolerance.
The researchers thus predicted that maintenance of high tolerance may facilitate invasion success of the invader and decrease the effectiveness of leaf-feeding biocontrol agents.
  The study entitled "No evidence for evolutionarily decreased tolerance and increased fitness in invasive Chromolaena odorata: implications for invasiveness and biological control" has been published online in Plant Ecology, 213 (7): 1157-1166, DOI:10.1007/s11258-012-0073-x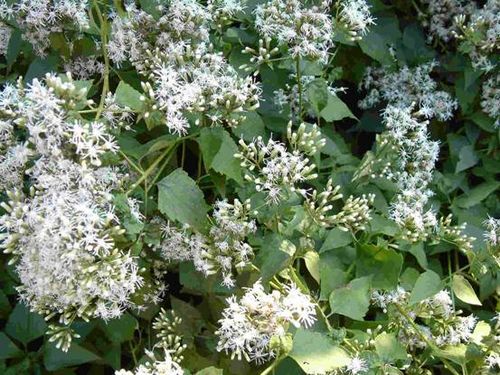 Chromolaena odorata (Image by Li Yangping)