Figs (Ficus, Moraceae) and their obligate pollinating wasps (Agaonidae, Chalcidoidea) constitute perhaps the most tightly specialized nursery pollination mutualism. It is crucial that fig wasps can recognize the developmental stages of their host figs. However, there is little evidence for the hypothesis.
Prof. Yang Darong and his research team of Xishuangbanna Tropical Botanical Garden (XTBG) conducted a study to obtain the evidence that fig wasps could recognize receptive figs of their specific host Ficus species from figs at other developmental stages through developmental stage-related volatiles.
The researchers firstly investigated whether there were developmental stage-related changes in fig volatiles of Ficus curtipes (Corner), and (if so) then how its pollinating fig wasp Eupristina sp. responded to those changes.
For those purposes, they collected and analysed the volatile chemicals emitted by F. curtipes figs at different developmental stages. They tested the behavioural responses of Eupristina wasps to those figs through two-choice bioassays in the laboratory and observed the behaviour of the wasps visiting their host fig tree through sticky traps in the field at XTBG (21°55′N, 101°25′E).
The research results demonstrated that (1) variation in the composition of volatile compounds emanating from F. curtipes figs was related to the phases of their development, (2) the Eupristina sp. pollinators of the figs showed a preference for receptive figs over figs in other developmental phases, (3) the fig wasps were nonetheless attracted to pre-receptive, post-pollination and interfloral phase figs, (4) they actively avoided male phase figs, and (5) under natural conditions, some wasps arrived at the tree before and after receptive figs are present.
The study entitled "'Push' and 'pull' responses by fig wasps to volatiles released by their host figs" has been published online in Chemoecology , DOI:10.1007/s00049-012-0108-8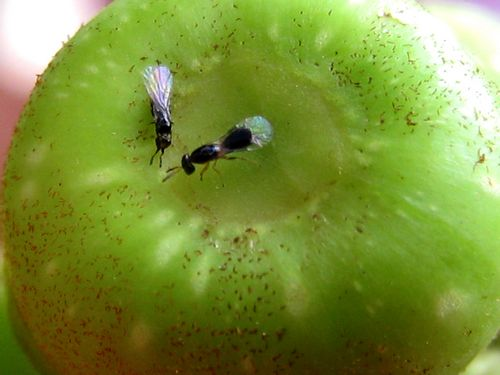 The fruit of Ficus curtipes and its pollinating fig wasp (Image by GU Ding)