The midday stomatal conductance of a plant could be related to plant hydraulic characteristics: plants with higher water transport at midday can maintain better leaf water status during this daytime period, and consequently experience less depression in midday stomatal conductance. However, this hydraulic determinant of midday stomatal conductance has not been well investigated.
Prof. Cao Kunfang and his research team of Xishuangbanna Tropical Botanical Garden (XTBG) conducted a study in an evergreen broadleaf forest at the Ailaoshan Station for Subtropical Evergreen Broadleaf Forest Ecosystem Studies (24°32′N, 101°01′E, elevation 2460 m), located on Ailao Mountain, Jingdong County, Yunnan Province, SW China.
They studied leaf and stem hydraulics, midday stem and leaf water status, and midday leaf stomatal conductance of 14 co-occurring broadleaf tree species (10 evergreen and four deciduous species) in a subtropical cloud forest with abundant moisture in Ailao Mountain. The objectives of the study were (1) to determine the hydraulic determinants of midday depression in photosynthetic gas exchange, (2) to clarify the hydraulic regulation of midday stem and leaf water potentials and (3) to characterize the difference in midday hydraulic and stomatal performance between deciduous and evergreen broadleaf tree species.
They found that midday stomatal conductance was more closely associated with midday stem water status than with leaf water status, suggesting that the functional significance of stomatal regulation in the species studied is likely prevention of stem rather than leaf xylem dysfunction. The ability of species to keep high stem water potential during periods of active transpiration was related to both stem hydraulic conductivity and reliance on stem hydraulic capacitance.
Their results also suggested different strategies in coordinating long-distance water transport and stomatal behaviour. Species with high hydraulic capacitance and conductivity appeared to have a relatively risky stomatal strategy, whereas species with low capacitance and specific hydraulic conductivityappeared to have relatively strong stomatal control.
The study entitled "Midday stomatal conductance is more related to stem rather than leaf water status in subtropical deciduous and evergreen broadleaf trees" has been published online in Plant, Cell & Environment, DOI: 10.1111/j.1365-3040.2012.02563.x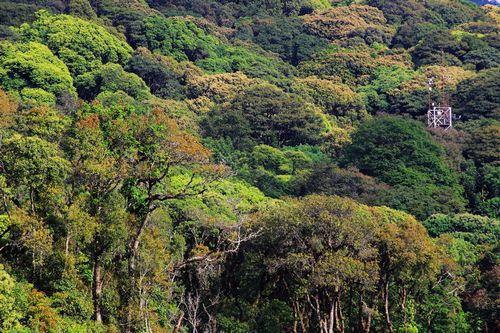 mid-montane humid evergreen broad-leaved forest in Ailao Mountain (image by Zhang Yongjiang)