Acampe rigida is widely distributed in karst regions between 300 and 1800 m in the Provinces of Yunnan, Guangxi, Guangdong and Hainan. It is a typical deceptive orchid with small attractive flowers that are fragrant but rewardless. Little is known about its pollination biology.
Prof. Gao Jiangyun and his research team of Xishuangbanna Tropical Botanical Garden (XTBG) investigated the floral biology of the species, in an effort to determine the mechanisms that might be responsible for maintaining high fruit-set, despite flowering during the rainy season in south-west China when pollinators are scarce.
They observed and described the floral mechanisms promoting rain pollination in A. rigida. They conducted controlled pollination experiments and observations of floral visitors. To evaluate the contribution of rain pollination to fruit-set under field conditions, they conducted a rain-shelter experiment at 14 sites in Guangxi, SW China.
Their experimental results suggest that rain-assisted self-pollination contributed significantly to maintaining relatively high levels of fruit-set in natural populations of A. rigida and thus appeared to be a general feature of the pollination biology of the species.
Because A. rigida is incapable of autonomous self-pollination, the physical intervention of rain splashes seems to be the only mechanism by which self-pollination can regularly occur. The researchers thus concluded that rain played the primary role in causing self-pollination in A. rigida.
The study entitled "Rain pollination provides reproductive assurance in a deceptive orchid" has been published online in Annals of Botany, doi: 10.1093/aob/mcs165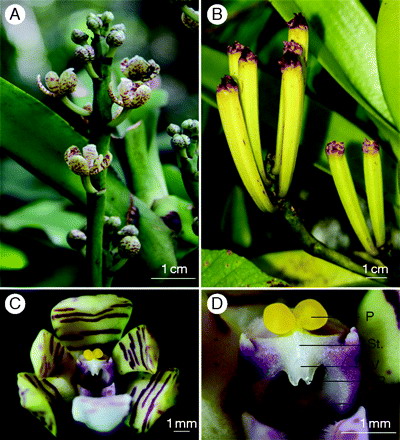 Reproductive features of the deceptive orchid Acampe rigida. (A) Inflorescence with vertically orientated, bowl-shaped, spirally arranged flowers. (B) Infructescence illustrating high fruit-set. (C) Flower with fleshy sepals and petals. (D) The structure of the pollinarium and stigma. (Images by FAN Xuli)