In subtropical forests, lichens are a nearly ubiquitous group and form a key but poorly understood component of epiphytes. Primary or old-growth forests are thought to act as refuges for epiphytic lichens. Understanding the conservation value of primary forest remnants and regenerating secondary forests for epiphytic lichens can greatly aid conservation efforts in forest landscapes.
Prof. Liu Wenyao and his team of Xishuangbanna Tropical Botanical Garden (XTBG) conducted a study to examine differences in species diversity and assemblages of epiphytic lichens among eight forest types in the subtropical Ailao Mountains (23°35′–24°44′N, 100°54′–101°30′E), which are a major feature of Yunnan Province, southwest China. Their objectives were to understand epiphytic lichen diversity there and to valuate the potential of secondary forests for lichen conservation.
They investigated epiphytic lichens in 120 plots of eight forest types that are representative for the subtropical Ailao Mountains. By sampling all eight forest types in their study area, they were able to comprehensively understand the distribution patterns of lichen epiphytes in a montane forest landscape, and to obtain a clear picture of the lichen community in each forest type.
They found that distinct lichen assemblages occurred in each forest type and epiphytic lichen richness and diversity were dependent on forest type. Primary forests were critical for conserving epiphytic lichen diversity. Three secondary forest types, including the middle-agedoak secondary forest (MOSF), the Populus bonatii secondary forest (PBSF) and the Ternstroemia gymnanthera secondary forest (TGSF), hosted more abundant cyanolichens. Thus, the researchers emphasized their potential complementary role in the conservation of forest flora in subtropical forests.
It was the first comprehensive study of epiphytic lichen diversity in subtropical forest ecosystems in China, and provided evidence that the conservation of both primary and secondary forests on a broad scale is needed to conserve the maximum species diversity in the landscape.
The study entitled "Epiphytic lichens in subtropical forest ecosystems in southwest China: Species diversity and implications for conservation" has been published online in Biological Conservation, 159 (2013): 88-95,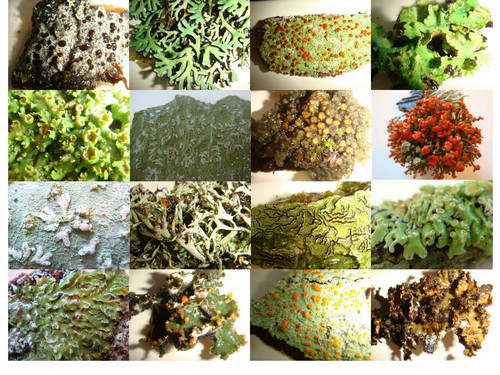 Epiphytic lichens (Image by LI Su)