Crofton weed (Ageratina adenophora), a worldwide noxious invasive species, spreads across a wide range of elevations (500–2500 m) in China and has caused great damage to environments and socioeconomic development, especially in Yunnan Province. An understanding of mechanisms that allow crofton weed to persist in heterogeneous environments is critical to forecast its future distribution. Phenotypic plasticity and genetic differentiation have been proposed to be two important mechanisms that enable invasive plants to acclimate to different environments.
Prof. Liu Wenyao
and his students of Xishuangbanna Tropical Botanical Garden (XTBG) investigated the differences in plant height, biomass, seed yield and seed germination rate of crofton weed among five populations located at different latitudes and elevations with annual temperatures between 12.7°C and 21.7°C.To test whether these differences among populations were caused by local adaptation, they carried out a greenhouse experiment and a reciprocal transplant experiment.

Their field investigation showed that plant height, biomass and seed yield all increased first and then decreased with increasing latitude along the distribution range of crofton weed in Yunnan Province. In the greenhouse experiment, however, there was no difference among the five populations. In the reciprocal transplant experiment, plants from the five populations responded similarly to different habitats in the field, indicating lack of local adaptation.

Their results reflected that crofton weed can sustain in unfavorable conditions and show increased growth and reproduction in preferable environments and suggested that phenotypic plasticity has played an important role in the invasion success of crofton weed in different environments.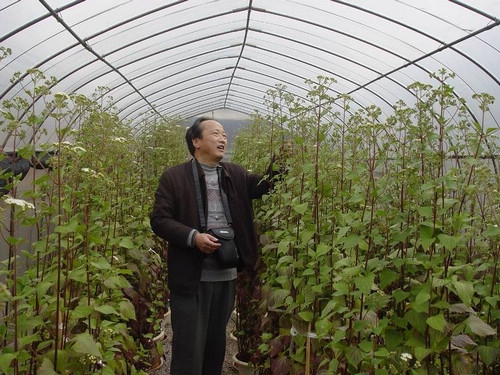 Prof. Liu Wenyao
at greenhouse experiment