Sacha Inchi (Plukenetia volubilis L.), also known as Inca Inchi or mountain peanut, belongs to the family Euphorbiaceae. It is a potential oilseed crop because the seeds of this plant are rich in unsaturated fatty acids (FAs). Understanding the molecular mechanisms underlying seed development and lipid biosynthesis in Sacha Inchi may provide new insights for isolating novel genes and serve the use of genetic engineering to increase the α-linolenic content of traditional vegetable oils. However, transcriptomic information is lacking for Sacha Inchi.
Prof. LIU Aizhong and his team of XTBG identified genes involved in PUFA (polyunsaturated fatty acid) biosynthesis (especially α-linolenic acid) in Sacha Inchi seeds during the period of fast oil accumulation. They carried out transcriptome analysis during two stages of seed development (the initial stage of seed development and the fast oil accumulation stage) by using an Illumina paired-end sequencing strategy.
They reported the first comprehensive dataset characterizing Sacha Inchi gene expression at transcriptional level. Transcriptome analyses from two developmental stages of Sacha Inchi seeds revealed 70,392 unigenes. 22,179 unigenes showed a 2-fold or greater expression difference between the two libraries.
The data provided the foundation for further studies on molecular mechanisms underlying oil accumulation and PUFA biosynthesis in Sacha Inchi seeds. Their analyses facilitated understanding of the molecular mechanisms responsible for the high unsaturated fatty acids (especially α-linolenic acid) accumulation in Sacha Inchi seeds.
The study entitled "Transcriptome analysis of Sacha Inchi (Plukenetia volubilis L.) seeds at two developmental stages" has been published in BMC Genomics 2012, 13:716 doi:10.1186/1471-2164-13-716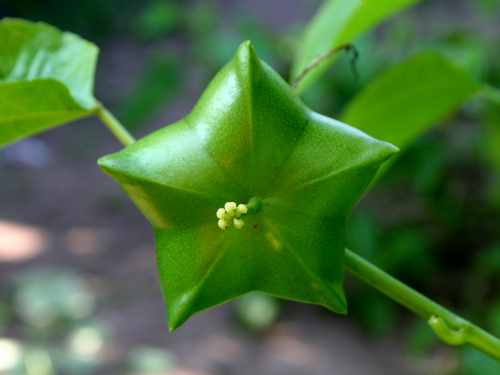 Fruit of Sacha Inchi (Plukenetia volubilis L.) (Image by Wang Xiaojuan)