Lizards, especially those in the diverse tropical regions have been the subject of relatively few long-term studies, largely because of the difficulties of marking individuals without damaging them. The development of a non-invasive technique suitable for assessing populations of small lizards is therefore required. The photographic capture-recapture (photo-CR) is an easy and inexpensive technique for long-term identification of individuals.
Dr. Rachakonda Sreekar of Xishuangbanna Tropical Botanical Garden (XTBG) and his colleaguesconducted a study to describe a photographic capture-recapture (CR) technique for estimating Draco dussumieri (Indian gliding lizard) populations. They used photographs of the ventral surface of the patagium to identify individuals.
The study was conducted in two different privately owned areca-nut (Areca catechu) plantations (0.7 and 2 ha respectively) in Agumbe, central Western Ghats, India (13°50′ N, 75°09′ E; 560 m above sea level).
Photo-CR is a relatively non-invasive and widely accepted method for conducting capture-recapture studies over a broad range of species, and potential alternative to toe-clipping in reptiles. In the study, the researchers demonstrated for the first time that the individuals of D. dussumieri can be discriminated based on blotches on the ventral surface of their patagium. Moreover, most Draco species have similar black blotches on the ventral surface of the patagium, suggesting the potential use of photo-CR for identifying individuals in other Draco species.
According to the researchers, photo-CR sampling can be used to obtain a range of behavioural, demographic and ecological factors, which are otherwise difficult to acquire due to lack of proper marking techniques suitable for Draco species, and potentially other reptiles with obvious markings.
The study entitled "Photographic Capture-Recapture Sampling for Assessing Populations of the Indian Gliding Lizard Draco dussumieri" has been published in PLoS ONE 8(2): e55935. doi:10.1371/journal.pone.0055935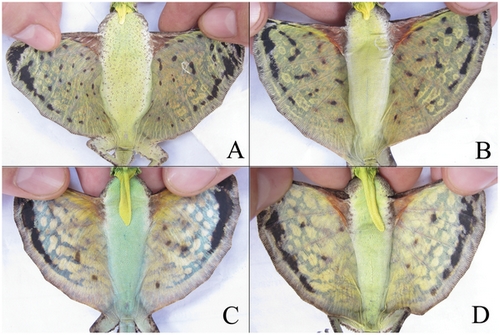 Attributes used to differentiate Draco dussumieri individuals.
Top: females (with short dewlap), below: males (with long dewlap). The number of blotches on the ventral surface of the patagium in females was significantly greater than that of males.
(Images by Rachakonda Sreekar )