Ancient tea garden has existed in Lancang County, Yunnan Province for more than 1,300 years, and is regarded as the provenance of Pu'er Tea's seed source. Previous research works has provided basic information for further studies on the ancient tea garden in Yunnan, while the knowledge about the value of these ecosystems in keeping biodiversity is scarce.
In order to reveal the role of biodiversity conservation of ancient tea garden, researchers from Xishuangbanna Tropical Botanical Garden (XTBG) investigated and compared plant diversity and application value of ancient tea gardens, normal tea gardens and secondary forestry communities in Lancang County. Two ancient tea garden communities, Mangjing (MJ) and Jingmai (22°09′37″N, 100°00′57″E) village's ancient tea garden were selected, because those tea gardens are the largest, oldest and most complete ancient tea gardens in China. The researchers also conducted 360 households investigation by using household-based agro-biodiversity assessment (HH-ABA).
Their study found that ancient tea garden has high species diversity, compared with secondary forests and normal tea garden communities. A comparison on the life form indicated that ancient tea garden have different types of life forms. Many rare and endangered plants were conserved in the ancient tea gardens, while no protected species were found in secondary forest and normal tea garden. Many species in the ancient tea garden could be used effectively, while no plant except tea trees is used in normal tea garden. Both biodiversity conservation and economic income of ancient tea garden were higher than that of normal tea garden.
The study entitled "Assessment of plant species diversity of ancient tea garden communities in Yunnan, Southwest of China" has been published in Agroforestry Systems, 87 (2): 465-474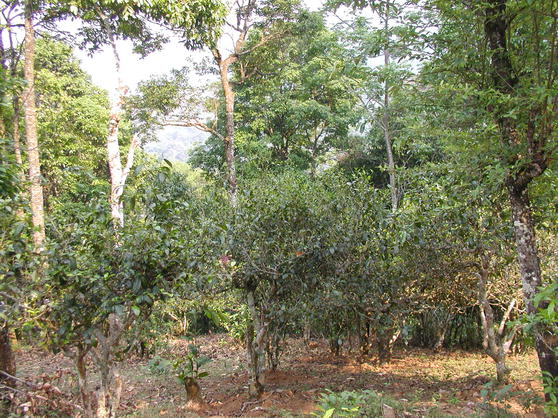 Photo of ancient tea garden community (Image by Qi Danhui)