Intercropping strategy has been widely explored in tea plantations in recent years. However, successful applications of intercropped trap plants in tea plantations remain limited. The effects of the trap plant on the tea aphid-ant-predator community and tea quality and yield are unknown.
In a study published in Pest Management Science, researchers from Xishuangbanna Tropical Botanical Garden (XTBG) tried to assess the impact of intercropping legume plant on tea aphid, ant, and predator guilds and examine dynamic variations of networks over three consecutive years. They then explored the potential effects of the legume on both tea quality and yields.
The researchers intercropped Flemingia macrophylla, a drought-tolerant, tropical multipurpose shrub legume, in a tea plantation located in Dadugang town of Xishuangbanna, then carried out experiments.
They found that the intercropped legume plant successfully trapped tea aphids (one of the most destructive insect pests in commercial tea plantations and gardens in southern China) and enhanced the complexity of aphid–ant–predator networks over three consecutive years compared to monoculture management. The legume significantly increased the abundance of natural predators and species richness.
Moreover, the intercropped F. macrophylla can indirectly benefit ant and predator guilds through cascade effects. The effects of F. macrophylla cascaded up to higher trophic levels of ants and predators through tea aphids, enhancing both species richness and abundance of these two guilds by providing food resources and shelter.It enhanced aphid–ant–predator network complexity by increasing node numbers and strengthening connections.
F. macrophylla significantly increased the abundance of natural predators and species richness. The increasing predators suppressed the aphid population and hampered its spillover to neighbouring tea plants. Consequently, F. macrophylla improved tea quality by an 8% increase in soluble sugar and a 26% reduction in polyphenols to amino acids ratio.
"Our study provides valuable insights into applying trap legumes in tea plantations as an efficient integrated pest management (IPM) strategy," said TANG Jianwei of XTBG.
Contact
TANG Jianwei Ph.D Principal Investigator
Key Laboratory of Tropical Plant Resources and Sustainable Use, Xishuangbanna Tropical Botanical Garden, Chinese Academy of Sciences, Menglun 666303, Yunnan, China
E-mail: tangjw@xtbg.org.cn
Published: 10 November 2023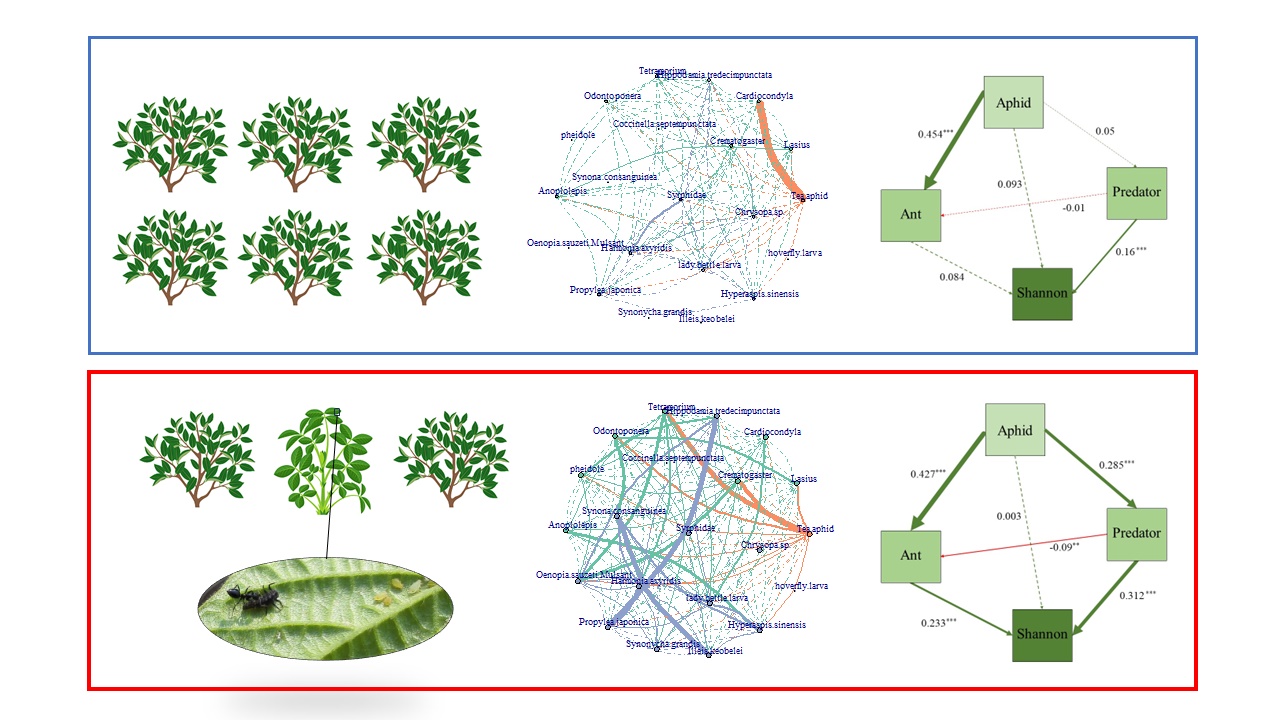 Intercropped
Flemingia macrophylla
successfully traps tea aphid (
Toxoptera aurantia
) and alters associated networks to enhance tea quality. (Image by GAO Jie)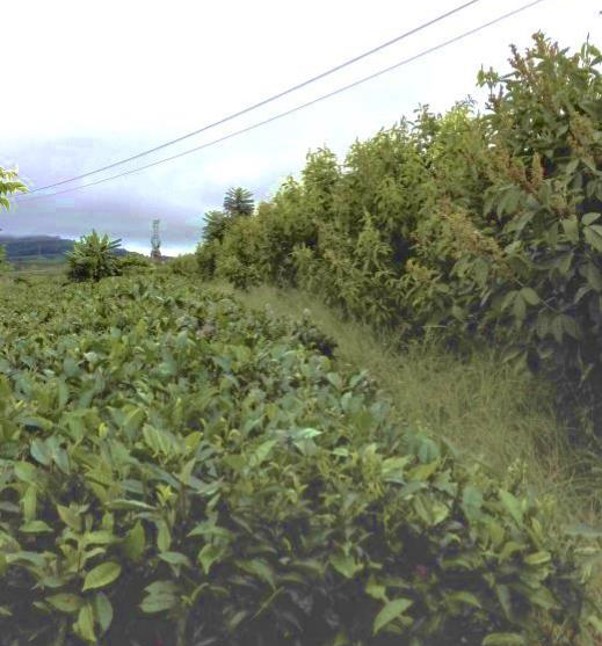 Intercropping tea plantation. (Image by GAO Jie)