Cassia fistula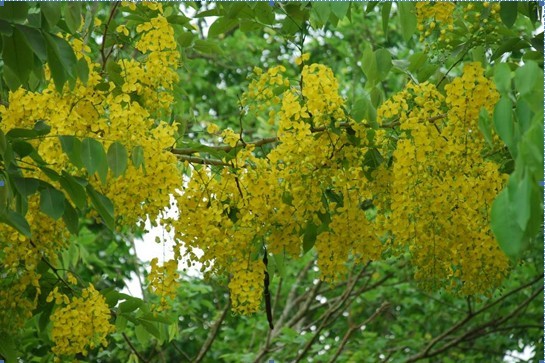 Canafistula is a fast-growing, medium-sized, deciduous tree which grows to about 9 meters in height. Leaves are compound, with 4-8 pairs of opposite leaflets. It produces flowers which are golden yellow and hang in showering bunches of up to 40 cm long earning its common name of "golden shower tree." The flowers appear when the branches are bare, just before the new leaves emerge and are a favorite of bees and butterflies. The blooms are followed by the production of two-foot-long, dark brown, cylindrical, woody seed pods which persist on the tree throughout the winter before falling to litter the ground. Canafistula is native to India, the Amazon and Sri Lanka, and is now widely cultivated worldwide as an ornamental tree for its beautiful showy yellow flowers.
The Golden Shower Tree is a flowering plant in the family Fabaceae, native to southern Asia, from southern Pakistan east through India to Myanmar and south to Sri Lanka. It is the national tree of Thailand.
Being so conspicuous and widely planted, this tree has a number of common names. In English, it is usually known as Golden Shower Tree or Golden Shower Cassia. In Chinese, it is called "sausage tree".