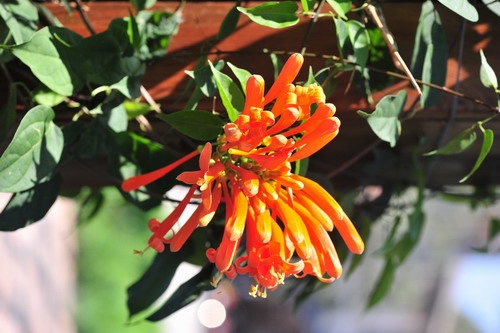 Pyrostegia venusta (flame vine) is a rampant climber that carries cascades of bright orange tubular flowers. Although a dazzling spectacle when in full flower, in some parts of the world it has become naturalised and a weed.
With such brilliance in its flaming orange-coloured blossoms, it's inevitable that Pyrostegia venusta has been reputed as one of the most spectacular flowering vines in cultivation. A vigorous and rambunctious climber with tendrils, Flame Vine will produce abundant clusters of brightly coloured trumpet-shaped flowers practically all year long. Truly a traffic stopper when in full bloom, especially if the vine is draped over a large pergola, fence or espaliered on a trellis or building structures.

Also known as Pyrostegia ignea, it is such a prolific bloomer – check this out at the site of UF/IFAS Okeechobee County Extension Service to enjoy some photos showing its glorious and stunning floral display.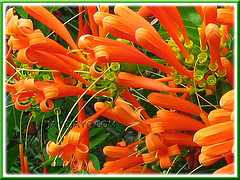 Species information
Scientific name: Pyrostegia venusta (Ker-Gawl.) Miers
Common name(s): flame vine, golden shower, Chinese cracker flower, belas (Brazil)
Synonym(s): Bignonia venusta Ker-Gawl., Pyrostegia ignea (Vell.) C.Presl
Conservation status: Not evaluated according to IUCN Red List criteria.
Habitat: Rocky places, forests in seasonally dry areas, scrub.
Key uses: Ornamental, traditional medicine.
Known hazards: None known.
Taxonomy
Class: Equisetopsida
Subclass: Magnoliidae
Superorder: Asteranae
Order: Lamiales
Family: Bignoniaceae
Genus: Pyrostegia
About this species
Pyrostegia venusta is a liana (a vigorous, woody climber) that makes a beautiful ornamental plant with cascades of orange flowers. It is commonly grown in tropical and subtropical areas, as well as in mild Mediterranean climates. The plants form dense masses, growing up trees, on walls or over rocks, and are covered with flowers in the cool, dry season.
The plant from which the painting of P. venusta in Curtis's Botanical Magazine was illustrated was collected in Brazil in 1815 by Admiral Sir John Beresford (Second Sea Lord and Conservative politician). It was brought to the editor of Curtis's Botanical Magazine by William Smith, who looked after Lord Liverpool's garden at Combe Wood in Surrey. Lord Liverpool became Prime Minister in 1812 after the assassination of Spencer Perceval and died at Combe Wood in 1828.