WELCOME!
A place of tropical flavor, beauty, serenity and fun far away from the hustle and bustle of big cities, the tropical paradise-Xishuangbanna Tropical Botanical Garden (XTBG), Chinese Academy of Sciences is open all year round.
Address:
XTBG, Menglun, Mengla, Xishuangbanna, Yunnan, 666303, China.
Regular Hours:
7:30a.m.-6:30 p.m. 7days a week.
General Admission Information:
·Full ticket: 104 RMB per person
·Discount Ticket: 52 RMB per person·
·50 RMB per person for students and teachers with valid certificate.
·Free for children under 1.2 meters.
·Free for retired cadres, soldiers in active military service, handicapped persons, and Chinese seniors over 70 years old, while presenting valid ID card.
Directions to Xishuangbanna Tropical Botanical Garden, Chinese Academy of Sciences:
XTBG is easily accessible. It is located at Menglun Town, Mengla County, Xishuangbanna Dai Autonomous Prefecture, Yunnan, China.
From Kunming to XTBG, both air plane and bus services are available.
By Air:
From Kunming to Jinghong (full price: RMB 1,100, discount tickets are frequent.), about 50 minutes.
From Jinghong to XTBG, by bus, about one hour.
By Bus:
From Kunming to Mengglun, or from Kunming-Jinghong-Menglun (RMB 180-240).
Tour Guide Services:
Free tour guide services are available for group visitors arranged by travel agencies.
Paid tour guide services for other visitors:
RMB 100 for a tour guide to serve a maximum of 25 visitors.
RMB 40 per person for sightseeing electric bus shuttle service.
Tel: 86 691 8715914
Tourist Center Serves:
1.   Souvenir shops, ATM, Restaurant, First Aid, a business center, a bookshop, a video room, and lounges for drivers and tour guides.
2.   Paid Services: Post, Copy and Print, Fax Service, Internet Access.
3.   Free Services: luggage storage, wheelchairs, baby carriages, walking sticks, umbrellas, maternal and children rest area
Souvenir Booths:
 At the western entrance of XTBG, the souvenir booths are really attractive. Here, you can see many beautiful and unique souvenirs of local characteristics and tropical fruits, also drinks and snacks.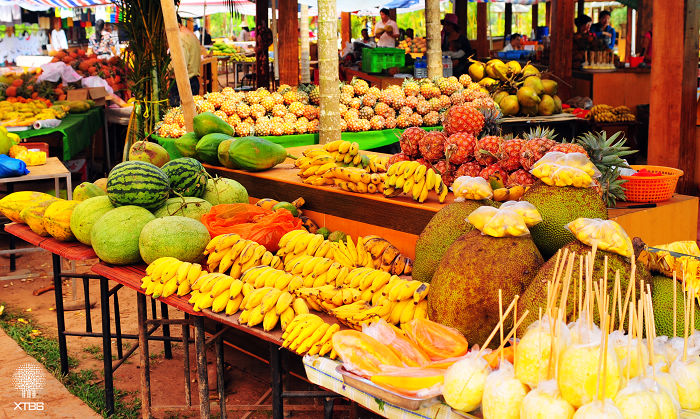 Accommodations:
A comfortable hotel is located within XTBG. Average rage per night: RMB 480.
Tel: +86 691 8716088
A Chinese restaurant is just beside the hotel.
Tel: +86 691 8715939