An expert panel had an on-spot evaluation of XTBG for its bid to be recognized as a National 5A Scenic Spot last week. The panel was sent by Yunnan Provincial Tourism Administration. 
The expert panel evaluated the Garden in many aspects, such as environmental protection, management, safety measures, heath service, postal service, shopping, and transportation. They gave a high appraisal on the improvement of tourism hardware and software.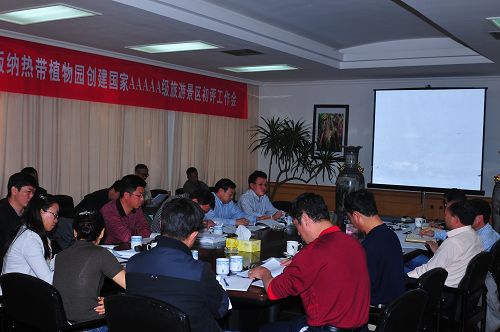 Expert panel has on-spot evaluation
XTBG began its bid for a national 5A Scenic Spot in 2006. It set up a special team to organize the work of building a National 5A Scenic Spot, with Prof. Chen Jin as its leader.
The Garden authorities invited experts to complete the master plan, to redesign the scenic spot, and invested in high-quality hardware construction.
The arduous efforts are paid off with growth of the number tourists, rise of revenues from ticket sales and services, and international fame.
The 5A Scenic Spot, a title awarded by the National Tourism Administration, marks the highest national standard for scenic spots in the country, with demanding requirements for infrastructure and service.
According to a set of criteria released by the administration, a qualified candidate for a 5A Scenic Spot must have held the title of a 4A Scenic Spot for at least one year and enjoy great international fame.
In addition, it must receive tourists of more than 600,000 person-times every year, with overseas tourists numbering more than 50,000.
  China now has 66 national 5A scenic spots in 28 provinces, municipalities and autonomous regions, such as the Great Wall, the Palace Museum, the Terracotta Warriors Museum, Kunming Stone Forest Scenic Area, Lijiang Yulong (Jade Dragon) Snow Mountain Scenic Spot.