The University of Chinese Academy of Sciences (UCAS) has recently announced the winners of the Excellent Doctoral Dissertation 2022 and Excellent Tutor. The thesis written by ZHANG Ting, a Ph.D graduate of Xishuangbanna Tropical Botanical Garden (XTBG), was awarded the CAS Excellent Doctoral Dissertation Award 2022. Prof.Peng Yanqiong, Zhang Ting's supervisor, won the title of CAS Excellent Graduate Tutor.
Zhang Ting's doctoral dissertation was entitled "The Mechanism of Fig Wasp Coexistence and Cheating Evolution of Pollination on Ficus microcarpa". The study, from characteristics of the reproduction phenology of F. microcarpa and the abundance dynamic of the related pollinator and cheater in the tropical area of Xishuangbanna, with the clarification of occurrence patterns and coexistence patterns of pollinators and cheaters and comparison of pollination structure, behavior and reproduction differences, showed that the evolution of cheating didn't pay a significant cost, the lack of host sanction led to the cheating evolution. On another hand, from the perspective of the composition of the wasp community and the chemical communication between species, the study revealed the mechanism of the coexistence of the wasps within the figs and the cheating evolution of the pollinating.
Zhang Ting, as the first author, has ever published the research result entitled "The evolution of parasitism from mutualism in wasps pollinating the fig, Ficus microcarpa, in Yunnan Province, China" in PNAS in 2021. The study was recommended by CAS academician Kang Le in Faculty opinions (F1000 Prime).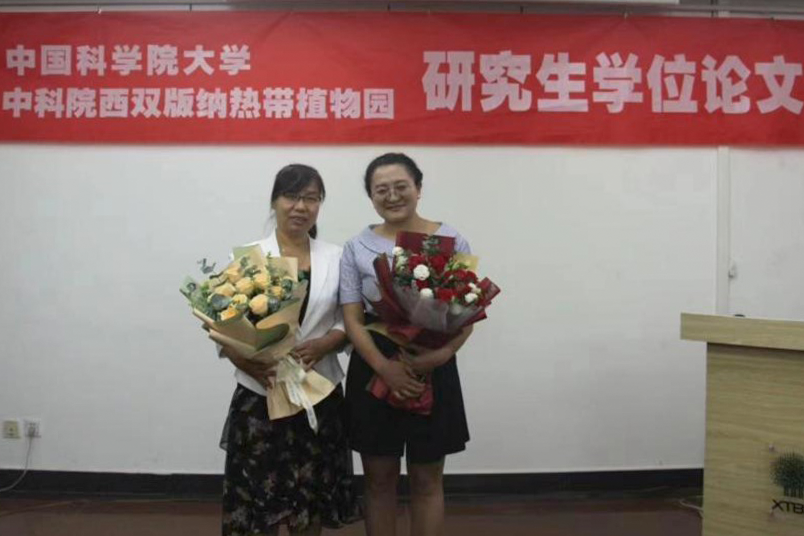 Dr. Zhang Ting (R)and her teacher Prof. Peng Yanqiong.